Verizon CEO stays silent on iPhone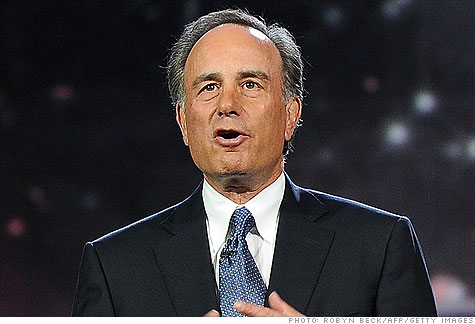 LAS VEGAS (CNNMoney) -- Sorry, Apple fans. In a high-profile speech on Thursday, Verizon CEO Ivan Seidenberg stayed completely silent about the question obsessing the tech world: When will Verizon get hold of Apple's iPhone?
The "i" word never crossed Seidenberg's lips during his keynote address at the Consumer Electronics show.
Instead, he issued a high-level call for the tech industry to band together to meet the needs of an increasingly networked world.
"Young people are telling us around the planet that [connectivity] is like another skin, a way to extend themselves around the virtual space," Seidenberg said. "People want access to everything at their fingertips, no matter where they are or what they see. The opportunity for our industry is to deliver relevance, and no one can do that alone."
Just 10 years ago, Seidenberg said, only one in three Americans had a cell phone. Today it's nine in 10. And wireless data consumption is more than doubling every year.
"So now it's time to turn the wheel again -- what will consumers want in the next 10 years?" Seidenberg asked.
Verizon (VZ, Fortune 500) president and chief operating officer Lowell McAdam took stage next to talk about the company's goal of "network innovation on a large scale." He focused on 4G, improved broadband and cloud computing.
"We're still in the beginning stages, but we think this will be a paradigm shift," McAdam said. "At this kind of scale, no single company can do it. So we're working with all segments of the industry."
That comment was the lead-in to a conversation between Seidenberg and Jeff Bewkes, the CEO of Time Warner (TWX, Fortune 500) (the parent company of CNNMoney).
"The first golden era of TV was when it was first invented, and the second one is now," Bewkes said. "There is this huge programming explosion, and we've got more and more talented people doing things on TV."
Bewkes expounded on the philosophy of TV Everywhere, a program Time Warner Cable and Verizon launched in 2010. The goal is to make cable programming available online to computers and other devices.
"The idea is that if you have subscribed to a service, you should have it on demand for whatever device you like," Bewkes said. "You should not have to pay extra for it, and you shouldn't have to have a Ph.D. to be able to figure it out."
Continuing in the vein of the discussion, Bewkes concluded: "Let's try to keep it simple, make it easy, and get everyone to do this in a uniform way."