Ice cream in winter?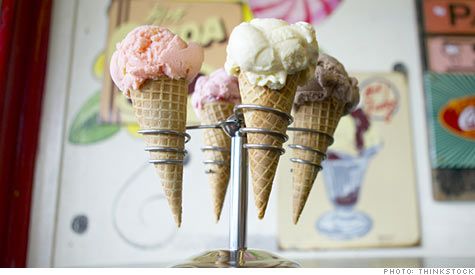 SILVER SPRING, Md. (CNN) -- Winter is not the season when most people yearn for ice cream. Sure, many ice cream makers create seasonal themed flavors such as candy cane and gingerbread to entice sales, but the truth is that people prefer cakes and cookies during the coldest months of the year, not chilled treats.
So what is an independent ice cream shop owner to do during winter?
"It's not just about the seasonality, which is difficult in and of its own," laments Susan Soorenko, owner of Moorenko's Ice Cream. "With the economy, I'm not going to lie, it's been extremely difficult."
Soorenko owns a traditional storefront just outside of Washington, D.C., where her super premium ice cream is sold year round, always full seasonal flavors that people have come to expect. But she has also devoted much attention to creating a wholesale business which sells ice cream to supermarket chains like Whole Foods (WFMI, Fortune 500) and an assortment of restaurants and clubs.
Any flavor under the sun
"We also do custom flavors, so that if a big hotel wants to feature a flavor, we can create that for them. Sometimes it is tiramisu or plum pudding or fruitcake ice cream; we do that for larger customers," says Soorenko, adding that prune Armagnac (her take on rum raisin) is one of the "denser flavors" of winter and her personal favorite.
Diversification is absolutely necessary if an ice cream business is to survive, according to Malcolm Stogo, president of Ice Cream University, a business he has operated for more than 30 years where aspiring ice cream makers enroll to learn the trade.
"If they don't have a wholesale business in wintertime or another product to sell, they will be in trouble," Stogo said. "One of the big advantages Susan has is she can customize a flavor that no one else has; she can produce any flavor under the sun in relatively short notice, making custom made flavors."
Standing behind an iconic counter, store manager John Landis ticks through the available flavors, many of them mainstays despite the seasonal changes.
"One of our constant favorites is honey lavender, which is honey ice cream made with fresh French lavender. Then the cotton candy with gummy bears, which is the kids favorite," Landis said.
Landis says that the cotton candy with gummy bears is the only flavor they make with artificial food coloring, an element demanded by children
"We discovered that if you didn't make it neon blue, they don't want to eat it," he added.
Kids are key
Attracting children is a vitally important part of business, especially in the winter months. Aside from hosting birthday parties and events for the local community, the store also offers coffee and espresso drinks, hoping parents are lured into treating themselves with caffeine while their children enjoy dessert.
"Kids want ice cream regardless of the temperature. Parents not so much," says Landis. "It's something for the parent to enjoy while the kid is freezing themselves with the ice cream. It provides a real impetus to bring them in; parents are the ones who are driving."
They also used the online discount service Groupon, hoping it would drive new business, but found many of those who purchased were already neighborhood customers, though not regulars.
"Not everybody eats ice cream. I know its hard to imagine, but its true. We have to have people come in, even when its cold," Soorenko sarcastically jokes from inside her industrial kitchen where a staff of 12 regularly make ice cream. Otherwise, she says, "I'll have to lay people off, and the last thing I want to do is tell people they don't have jobs."