Chevy Volt wins top honor at Detroit show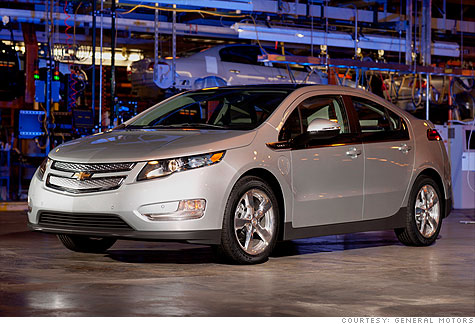 DETROIT (CNNMoney) -- The plug-in Chevrolet Volt was named North American Car of the Year at the Detroit Auto Show on Monday.
The Ford Explorer was voted Truck of the Year in the awards handed out during the media preview days at the auto show.
The North American car and truck of the year awards are voted on by a jury of up to 50 automotive journalists from the United States and Canada.
While General Motors (GM) acknowledges the Volt won't add to the automakers profits for years, GM has used the car as a marketing tool. The Volt appeared in Chevrolet advertising for years before its November introduction.
Many industry analysts were worried that if the Volt turned out to be a bad car -- or even a mediocre car -- GM's image would be badly tarnished. Fortunately for GM, journalists and analysts have largely given the car a favorable greeting.
"Conceived as the General was failing, developed when the company was fighting for its very survival, the Volt is a remarkable achievement," said Ken Gross, a writer for Playboy and a juror for the award, in a statement.
Prior to this announcement, the Volt had previously won several other awards in the United States, including Motor Trend Car of the Year.
The Ford Explorer SUV in also an important comeback vehicle for Ford (F, Fortune 500), in its own respect. The Explorer was once the top-selling passenger vehicle in the United States, but its sales had fallen drastically as gas prices rose and customers turned to more efficient, smoother-riding car-based crossovers SUVs.
The new Explorer is a car-based crossover but one with some off-road capability. It's based on the same engineering as the Ford Taurus sedan and the Ford Flex crossover.
"The 2011 Ford Explorer is nothing less than a revelation in dynamics, refinement, and efficiency," said Alex Taylor, a write for Fortune magazine and one of the jurors for the award.
The finalists for the Car of the Year Award were the Chevrolet Volt, Nissan Leaf and Hyundai Sonata. The finalists for the Truck of the Year were the Ford Explorer, the Jeep Grand Cherokee and the Dodge Durango.