Hugh Hefner taking Playboy private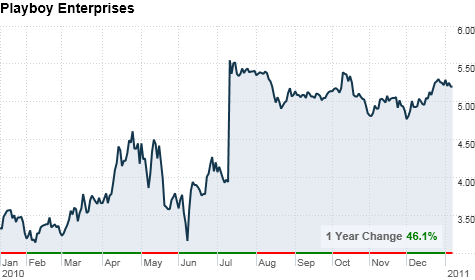 NEW YORK (CNNMoney) -- Playboy founder Hugh Hefner signed an agreement to take his publicly-traded company private, the company said Monday.
Hefner, who already owns a substantial amount of the company's shares, has entered an agreement with Icon Acquisition Holdings to pay $6.15 per share for the portion of Playboy Enterprises that he does not own.
This would be an 18% premium from Playboy's (PLA) closing price of $5.20 per share on Friday. At the start of trading on Monday, shares surged 17%.
"With the completion of this transaction, Playboy will come full circle, returning to its roots as a private company," said Hefner, who created the pornographic magazine with its iconic bunny logo 57 years ago.
Hefner, through his trusts, owns 69.5% of the class A shares and 27.7% of the class B shares. He expects to close the deal by Jan. 21.
This ends an ongoing bidding war with another porn icon, Penthouse. FriendFinder Networks, the owner of Penthouse magazine, offered to buy Playboy for $210 million in July, 2010. At the time, that translated to $6.24 per share.
That offer was in response to Hefner's original plan to purchase the outstanding shares for $5.50 each, which valued Playboy at $185 million.
Playboy has been struggling with profitability in recent years, given the proliferation of free, online pornography.