Do or die for massive Illinois tax hike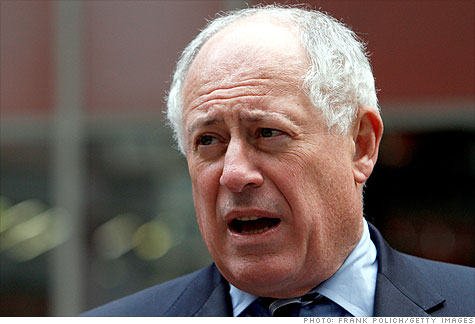 NEW YORK (CNNMoney) -- Democratic state lawmakers in Illinois are scrambling to pass massive personal and corporate income tax hikes Tuesday to bring their state budget back from the fiscal abyss.
Timing is critical because it will be much harder to raise taxes after Republicans take over more seats on Wednesday. The state GOP is firmly opposed to hiking taxes, preferring instead to cut spending. (Update: Tax hikes approved)
While the proposal is still in flux, it contains a mix of tax increases and new borrowing, with a nod to keeping spending under control. Democrats are trying to garner more support for the measure by scaling back the tax spike to 66%, down from an initial proposal of 75%.
Among the measures on the table are:
Temporarily raising the personal income tax rate to 5%, from 3%.
Temporarily hiking corporate income taxes to 7%, from 4.8%.
Increasing the tobacco tax to $1.99 per pack, from 98 cents.
Imposing a moratorium on new programs with spending growth capped at 2% per year, with the exception of increased school aid of more than $700 million.
Borrowing $8.5 billion to clear the current stack of unpaid bills.
Borrowing $3.7 billion for the fiscal 2011 pension payment.
Deficits and unpaid bills
Illinois is not alone in its budget problems. States are facing a collective $41 billion budget gap, according to a recent survey. California's new governor, Jerry Brown, just unveiled a budget proposal that will slash funding for social services, universities and aid to the needy.
But the Illinois budget crisis, which has been decades in the making, is arguably among the worst in the nation. The state's income tax rates have not risen since 1989.
The state is facing a $13 billion shortfall that must be resolved by the end of the fiscal year on June 30. Illinois has $6 billion in unpaid bills to social service agencies, healthcare providers, contractors and others. And its state pension plan is severely underfunded.
"This is unprecedented," said Richard Dye, professor at the Institute of Government and Public Affairs at the University of Illinois. In a recent report he co-authored, he wrote it is hard to overstate the depth of the fiscal hole the state is in.
If the legislature doesn't act by Wednesday, Gov. Pat Quinn will have tougher decisions to make when he introduces his Fiscal 2012 budget in mid-February. He may have to suggest deep spending cuts, which he has been loath to do.
And he may find it harder to turn to the bond markets since investors are growing increasingly skittish. Illinois relies on borrowing more than most states because it is allowed to use debt to fill budget shortfalls.
Republicans, meanwhile, are firmly opposed to raising taxes, saying it will hurt businesses and discourage new ones from moving to Illinois.
"While Illinois' budget problems are grave, the answers lie in first attacking the excessive spending and enacting structural reforms that are needed before any new revenues are even considered," the Illinois Republican Party said in a statement. "We cannot let the Democrats drive business out of Illinois and all of the jobs that go with it."
The governor has promised to deal with the state's financial problems very soon.
"We will pay our bills," he said in his inaugural address Monday. "We will stabilize our budget."
Even if Democratic lawmakers manage to pass the tax hikes, it won't be enough to fully close the budget gap, Dye said. His analysis, which was based on the initial tax hike proposal of 75%, showed the state would still have to battle deficits in the coming fiscal year.
"It only solves half the problem," he said.