John Lennon's Ferrari for sale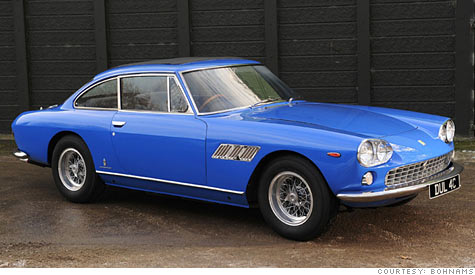 NEW YORK (CNNMoney) -- Singer John Lennon's first car, a 1965 Ferrari 330 GT 2+2 Coupe, is up for auction. The car has an estimated value of $155,000 to $220,000.
The car will be sold in Paris on February 5 by the British auction firm of Bonhams.
According to the classic car pricing Web site Nadaguides.com, a car like Lennon's would ordinarily be worth about $60,000 to $109,000, depending on condition and options.
Lennon got his first driver's license in 1965, by which time he and his band, the Beatles, were world famous. In passing his driving test, Lennon made national headlines. Within hours, high-end luxury car dealers were jamming the streets outside Lennon's Weybridge, England, with cars including Jaguars, Maseratis and Aston Martins, according to Bonhams. Lennon chose the Ferrari.
He owned the Ferrari for only a few months before selling it. By that time, he had already purchased a Rolls-Royce limousine which he had painted in a psychedelic color scheme. He also owned a Mini Cooper at the time.
Lennon's first car should sell for considerably more than another one of his later cars.
One of Lennon's last cars, a 1972 Chrysler Town & Country station wagon used in New York City, was sold recently by Braswell Galleries of Connecticut for just $5,500, according to the firm's Web site. The car was said to be Lennon's favorite because it allowed him to travel largely unrecognized.