Why there's no more debate on gun control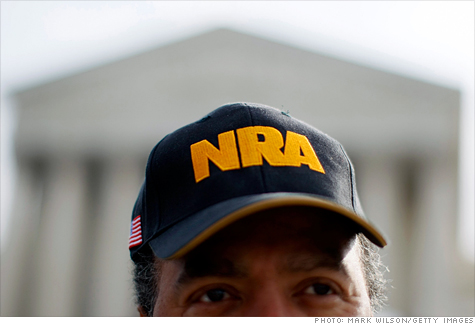 FORTUNE -- The tragic shooting on Saturday of Arizona Rep. Gabrielle Giffords (D) and 19 others has renewed a national conversation about whether our gun laws need tightening. But the chatter for the most part has so far ignored a curious fact: in Congress, the arena where any new restrictions would be decided, the debate effectively ended years ago.
Even over the last two years, when Democrats controlled both the White House and Congress, gun rights advocates led by the National Rifle Association could count on commanding pro-gun majorities on the Hill. The result: the gun lobby enjoys what has amounted to veto authority over any proposal they view as nettlesome, and they've wielded it with startling efficacy. The midterm election results only broadened gun advocates' reach on the Hill, so to the extent there will be a legislative response to the rampage in Tucson, it is highly unlikely to include tough new restrictions on gun ownership.
How did we get here?
The answer owes in part to the National Rifle Association itself, whose opponents acknowledge as an unrivaled grassroots political force.
"They are the most effective single-issue lobbying group in America," says Jim Kessler, who worked on the 1994 assault rifle ban as an aide to Sen. Chuck Schumer (D-N.Y.), and then as research director at Americans for Gun Safety. "They have a very active membership, they are one of the smartest organizations politically, and they have a very narrow and focused agenda."
But Democratic party leaders also made a conscious decision, mid-decade, to cede the argument to gun rights advocates in an effort to win back rural voters and rebuild their governing coalition. Schumer and then-Rep. Rahm Emanuel (D-Ill.), who led the Senate and House Democratic political arms heading into the 2006 midterms, purposefully recruited candidates in the South and West who bucked party orthodoxy on social issues -- including the triumvirate of concerns commonly tagged "God, guns, and gays."
The strategy worked insofar as it helped the party run and win in formerly hostile territory. Democrats reclaimed both chambers of Congress in those elections, with Giffords herself riding that wave to her first term in the House. Gun control advocates thought their days of playing defense were over.
"In this election, the gun issue was in play, gun violence prevention groups won while gun pushers lost, and there is now a shift in momentum on the issue of common sense gun restrictions," Paul Helmke, president of the Brady Campaign to Prevent Gun Violence, said in a statement after the elections.
They quickly found out how little had changed. Gun rights advocates nosed into issues that had seemingly little to do with gun rights, using their hardly-diminished juice to force Democratic leaders to accommodate them.
In March of 2007, for example, then-House Majority Leader Steny Hoyer (D-Md.) had to pull from consideration a measure elevating the crime of animal fighting to a felony -- a victory long-sought by animal rights activists -- after the NRA raised last-minute technical objections.
Then a bill to grant the District of Columbia status as a voting member of the House, a priority of Hoyer's, collapsed after Republicans proposed an amendment rolling back the city's restrictive gun laws. Democratic leaders knew their own pro-gun rank-and-file would help the proposal pass, forcing city officials to choose between a Congressional vote and the gun laws on their books. To date, they have chosen to forsake the Congressional vote.
A lone, and highly tailored, exception came in the aftermath of the Virginia Tech massacre, with an expansion of federal background checks to include more mental health records.
In the wake of the 2008 elections, gun control advocates got their hopes up again. With Barack Obama in the White House and expanded Democratic majorities, they believed they would finally make some progress.
The proof appeared to come in the alarm on the other side: gun enthusiasts whipped themselves into a frenzy, warning each other to stockpile weapons and ammunition ahead of a supposed confiscation.
Instead, Obama has been all but absent from the debate. In 2009, he signed bills allowing people to carry firearms in national parks and in bags on Amtrak trains.
Last year, in the wake of the foiled Times Square bomb plot, gun control advocates looked for a narrow win by pushing to outlaw gun purchases by anyone on the FBI's terrorist watch list. And keying off the anniversaries of the Columbine and Virginia Tech shootings, they launched a fresh drive to close the so-called gun show loophole, through which people buying guns in private sales can avoid a background check. The NRA opposed both efforts, and they both failed.
The group's reach even under a Democratic regime was on its most naked display last spring, when the party was trying to craft a legislative response to a Supreme Court decision that dramatically scaled back campaign finance law. The NRA objected to new disclosure requirements under a House Democratic proposal. Party leaders knew their opposition would sink the bill, so they added a carve-out specifically drafted to exempt the gun lobby. With the NRA appeased, the bill cleared the House but later died in the Senate.
Ladd Everitt, spokesman for the Coalition to Stop Gun Violence, says the fact that the Tucson shooting targeted a lawmaker could change some of minds in Congress.
"Democrats in rural, conservative areas will realize they do nothing to further their own agenda, or even their own safety, by siding with the NRA," says Everitt.
And lawmakers who support stricter gun laws are hoping to gain traction with proposals developed in response to the particular circumstances of the tragedy. Sen. Frank Lautenberg (D-N.J.) and Rep. Carolyn McCarthy (D-N.Y.) are readying bills to ban the type of high-capacity magazine that accused gunman Jared Lee Loughner used in his rampage, while House Homeland Security Chairman Peter King (R-N.Y.) wants to make it illegal to bring a gun within 1,000 feet of a government official.
But veteran lawmakers and aides are skeptical about their prospects. Senate Judiciary Chairman Patrick Leahy (D-Vt.) earlier this week said while he expected some new efforts, "I don't know that much will change."
With good reason. The elections in November tightened the NRA's grip on both chambers. By the group's own post-election accounting, they netted seven new allies in the Senate and 26 in the House -- after doling out nearly $1.2 million in contributions to candidates. While 69% of that money went to Republicans, according to the Center for Responsive Politics, the group can still count on Democratic friends in high places, including Senate Majority Leader Harry Reid (D-Nev.).
In a testament to the NRA's confidence in their position, they haven't even responded to the latest calls for tougher gun laws. So far, the group is limiting itself to a one-line statement: "At this time anything other than prayers for the victims and their families would be inappropriate."