Automakers face tough new rollover-crash rule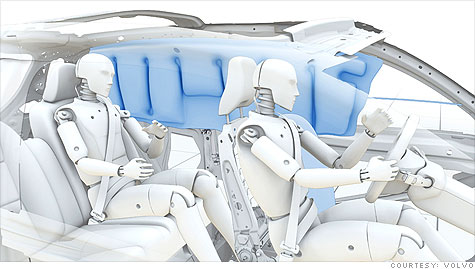 NEW YORK (CNNMoney) -- Passenger vehicles will have to keep occupants, even those not wearing seatbelts, from going through the side windows during a rollover, according to a new regulation announced by the National Highway Traffic Safety Administration Thursday.
"Safety is our highest priority," transportation secretary Ray LaHood said in an announcement. "This new standard will help save lives and reduce injuries by requiring vehicles to have a safety system that keeps occupants in the vehicle in a rollover crash."
Some SUV's already have rollover-sensing side airbags that deploy instantly in the event of a rollover and remain open for a few seconds to prevent occupants from being thrown through the windows.
The most likely way that carmakers will comply with the new rule is by adding rollover-sensing side airbags to all vehicles, NHTSA said. Carmakers could also used advanced safety glass in the windows, according to NHTSA's report on the new requirement.
The new rule will be phased in beginning in 2013 and all new vehicles will be required to have "ejection mitigation" systems by 2018.
"Rollover crashes are the deadliest of all crash types and this is another important step in our efforts to reduce fatalities and serious injuries that result from them," NHTSA administrator David Strickland said in the announcement. "When fully implemented, we believe this standard will prevent on average 373 fatalities and 476 serious injuries every year."
NHTSA estimates this rule will cost about $507million -- or $31 per vehicle -- to implement. That works out to about $1.3 million to $1.7 million per life saved, according to the agency.
Rollover crashes are relatively rare but much more deadly than other types of crashes. Occupants in rollover crashes are 14 times more likely to die than those involved in a frontal crash, according to NHTSA. And those thrown from the vehicle are much more likely to die than those who remain inside.
This is the second safety regulation proposed or enacted by NHTSA in the past few weeks.
In December, regulators proposed a new rule essentially requiring back-up cameras for all vehicles by 2014. By providing drivers a full view of what's behind them when backing up, these would help protect people, especially young children, from being run over by vehicles with otherwise poor rear visibility.