Bonds edge up after weak jobs data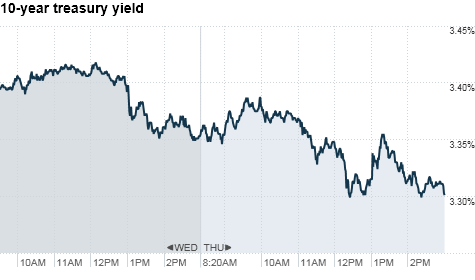 NEW YORK (CNNMoney) -- Treasury prices edged higher Thursday after disappointing numbers on the job front and the third of three scheduled debt auctions for the week. Meanwhile, eurozone debt worries got a bit of relief.
Before the opening bell, the government reported that the number of Americans filing for their first week of unemployment benefits jumped sharply last week, two weeks after hitting a 2-1/2 year low below 400,000. There were 445,000 initial jobless claims filed in the most recent week, which was much higher than expected.
Meanwhile, continuing claims -- a measure of Americans who have been receiving benefits for a week or more -- fell to 3.8 million.
There was also a report out showing wholesale inflation rose slightly more than expected and another showing the U.S. trade balance was nearly unchanged.
While Thursday's data was mixed overall, economic reports have been positive lately. When investors feel more positive about the economy, they tend to move out of the safe haven of bonds and into riskier investments, such as stocks.
"The economic indicators that we have seen have pointed to a slow, but sure economic recovery. That is always going to weigh on the fixed-income markets," said David Katz, principal and senior portfolio strategist at Weiser Capital Management.
In the last few months, the yield on the benchmark 10-year Treasury has risen by about a point as the price has fallen.
Even as U.S. economic data has been better, the eurozone's ability to manage its debt has been a wildcard on investors' plates. However, investors have seen some positive indicators this week that eurozone nations will be able to meet their obligations. In particular, Spain auctioned off $3.9 billion (€3 billion) worth of its debt Thursday.
But that still doesn't mean investors are confident that the region is stable. "People look at Europe as a little bit unstable," said Katz. "There are some big problems and we don't know how far they have reached."
Also on Thursday, the rating agency Moody's warned that the United States' fiscal stimulus policies -- spending instead of focusing on debt reduction -- creates "a small but increasing likelihood that markets will demand a higher risk premium on government debt, in sharp contrast to the safe-haven status that the U.S. Treasury bond has long enjoyed."
But ratings agencies don't have a whole lot of power to move markets. "It is always going to raise the eyebrow of the average investors," said Katz. "But I don't think it is going to have a tremendous impact because I don't think people put too much weight on what the rating agencies are saying anymore."
That doesn't mean those concerns aren't real, however. The U.S. government's stimulus spending will have consequences.
"We are back to that kick-the-can-down-the-road philosophy," said Katz. "At some point all this stimulus will catch up to us: When and in what form remains to be anyone's guess." He also added that while the stimulus efforts might have unknown consequences, so too would have not using stimulus.
On Thursday, the yield on the benchmark 10-year note slipped to 3.30% from 3.37% late Wednesday. The yield on the 30-year bond edged lower to 4.50%, while the 5-year note edged down to 1.91% and the 2-year note dipped to 0.59%. Prices and yields move in opposite directions.
Bond traders have been keeping a close eye on three government debt auctions totaling $66 billion this week. The first two auctions met more robust demand than the third and final auction of the week because they were for shorter-term notes.
On Tuesday, the government sold $32 billion in three-year notes. The bid-to-cover ratio for the auction was 3.06, meaning that there was almost $98 billion worth of demand for the $32 billion worth of debt sold.
Wednesday's $21 billion auction of 10-year notes was also met with strong demand. The bid-to-cover ratio of 3.3 means that there was more than $69 billion worth of demand for the $21 billion worth of debt.
But the uncertainty of the global recovery has left investors less confident of their long-term outlook, making longer-term debt more risky and slightly less desirable.
Still, the final of the three debt auctions on Thursday sold $13 billion in 30-year bonds at a bid-to-cover ratio of 2.67. That means there was almost $35 billion worth of demand for the $13 billion of debt sold.