Efficiency in death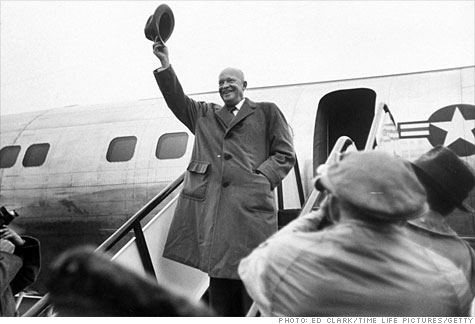 FORTUNE -- In this excerpt from "Unwarranted Influence: Dwight D. Eisenhower and the Military-Industrial Complex" (Yale University Press), author James Ledbetter details the increasingly cozy relationship between military and big business in the 20th century. Here, Ledbetter explains how activists in the Vietnam era sought to use the tools of finance to punish companies whose products, like napalm, they found immoral.
Early in 1966 the world seemed pretty bright to the managers of Dow Chemical (DOW, Fortune 500). The company, based in Midland, Michigan, was the largest manufacturer of industrial and consumer plastics in the United States, and the growth of plastic was explosive; Dow was making more than a billion pounds of the stuff a year. Whether American housewives preferred Saran Wrap (first sold for home use in 1953) or Handi-Wrap (first sold in 1963), both put money into Dow's coffers. In 1965, Dow was one of only a few dozen American companies to surpass a billion dollars in annual revenue, and it was throwing off profit at three times the rate of a decade earlier.
First-quarter profits in 1966 were up 32.2 percent over the year before, and Dow, which already employed some 30,000 people around the world, was still expanding. In February 1966 the company announced a $14.5 million expansion of its chemical manufacturing facilities in Louisiana and said it was considering opening a "multimillion dollar" manganese processing plant in Ogden, Utah-right near the Hill Air Force base.
That location was not entirely coincidental. Like the war or not, the escalating American military involvement in Vietnam was good for business. In early 1966 Dow, along with United Technology in Connecticut, had received an Air Force contract to manufacture 75,000 tons of Napalm-B, a newly tweaked version of an incendiary jelly used to rain fire on the North Vietnamese landscape when the U.S. began bombing there in 1965 (some 400,000 tons of napalm would be used over the course of that war). The napalm contract quickly turned into a public relations fiasco. Reports of napalm use in Vietnam had become routine in the mainstream press, but activist publications (notably the monthly magazine Ramparts), had carried especially graphic accounts and presented high estimates of civilian casualties.
In April, protestors in Redwood City, California, were able to put on the ballot an initiative denying use of city property for the manufacture of napalm. Four women were arrested trying to block shipments of napalm out of a Dow facility in San Jose. Pickets began springing up outside Dow's offices in Manhattan's Rockefeller Center, with protestors carrying signs that read "Napalm Burns Babies, Dow Makes Money." Protests spread to dozens of universities, turning Dow's recruitment efforts into occasionally nightmarish episodes. An October 1967 trip to Harvard University--where napalm had been invented during World War II--led to a Dow recruiter being retained for 7 hours in a chemistry lab room.
In a short space of time, Dow--not an especially large military contractor-had become the poster child for corporate complicity with an increasingly unpopular war. An historian of the company has called the targeting of Dow "perhaps the most abusive attack ever launched against an American business firm." At the end of 1966, a Dow executive mused, "I would hate for Dow to come out of Viet Nam with the 'Merchants of Death' label that was pinned on du Pont (DD, Fortune 500) after the first World War; and yet, unless we come to grips with this problem, it is likely to happen."
At the beginning of the decade, outgoing president Dwight D. Eisenhower had warned the nation about the "the acquisition of unwarranted influence, whether sought or unsought, by the military-industrial complex." It fell to others, however, to define and interpret what that idea actually meant. Many saw it as a synonym for the hidden but powerful hand of military contractors in lobbying members of Congress. In the 1962 Port Huron Statement adopted by the radical Students for a Democratic Society, the phrase was attached to the revolving door that shuttled senior military officers to defense manufacturers and vice-versa. Still others saw a military-industrial complex as a kind of spiritual corruption in American society, valuing martial authority over individual liberties.
But the escalation of the war in Vietnam gave the term a new urgency and meaning. As the Dow protests illustrate, for many the military-industrial complex had come to mean that industry was synonymous with militarism, industry supported the military, and to work for or buy from industry was to be complicit in an unjust war. It was one of many interpretations of the military-industrial complex (MIC) making up the antiwar zeitgeist. By the late 1960s the MIC had become a loosely connected intellectual federation, itself a virtual complex, elaborating core ideas until they expanded into provocative, often explosive theories.
Like the Port Huron statement, the MIC was a political cause, a rallying point for the left, for whom it explained a seemingly pointless war. Whereas the tone of earlier treatments was ominous, prophetic and descriptive, the MIC in the Vietnam era was often the target of furious rhetoric as well as increasingly specialized investigation. The expansion of the MIC thesis during this period included a deeper focus on the specific actions of Congress, lobbyists, and other players in the military budget process; an elaboration of the overall economic effects of the MIC--not surprisingly, they were usually found to be negative--leading to theories that the Pentagon and its contractors were "converging" into a single entity; and increased attention, especially on the part of protest groups, to the connections between the military and civilian economies.
The depth of analysis around military procurement issues beginning in the 1970s could almost justify an academic program in "MIC Studies." In subsequent years, analysts would examine nearly every conceivable aspect of Congress's relationship to military budgets, including political party affiliation; geographic distribution; committee membership and committee leadership; electoral outcomes; the timing of elections; and the role of subcontractors.
What is striking about the Vietnam-era version of the MIC critique is how vehement its rhetoric could be. Eisenhower in his farewell address had struck a tone of grave concern, calling attention to an issue so that an enlightened citizenry might prevent dire occurrences. His longtime correspondent Saturday Review editor Norman Cousins continued, through his work with SANE, to fight within the system to achieve concrete goals such as arms reduction and test ban treaties. But to the most vociferous critics, such efforts seemed futile; the very project of America was inextricably bound up in military excess. By the end of the decade, the MIC had acquired such ominous synonyms as "the warfare state" and "the national security state."
An economist who worked on a Congressional committee wrote in 1969: "Only recently has research started to hang some real meat on [Eisenhower's] bony, provocative phrase, 'military-industrial complex.' What is emerging is a real Frankenstein's monster. Not only is there considerable evidence that excessive military spending has contributed to a misallocation of national resources, but the conclusion seems inescapable that society has already suffered irreparable harm from the pressures and distortions thus created."
That same year, Richard J. Barnet, who had worked in the Kennedy administration, published a book on the MIC called "The Economy of Death." Another critical book, "The Pentagon Watchers," asserted: "It is perhaps ironic that America, whose leaders claim that they have only responded to the world-wide challenge of totalitarian regimes in Russia and China, should increasingly resemble the repressive state that George Orwell depicted in "1984." As in that work, the life of the state has become an end in itself, and as in Fascist Italy or Nazi Germany, the work of the state becomes the making of war."
Those two books represent another significant milestone in MIC thinking-namely, its institutionalization. Both were products of the Institute for Policy Studies (IPS), which Barnet and Marcus Raskin had founded in 1963; both were disaffected government analysts who'd worked in the State and Defense Departments. The Brookings Institution, a far less radical outfit (Robert S. McNamara sat on its board of trustees), also trained its eye on military procurement issues. An influential 1968 Brookings report called Government Contracting and Technological Change, looking broadly and historically at the issues raised by contracting throughout government, largely confirmed the view of the Pentagon as an unchecked source of wasteful spending; it determined that many big military contracts in the 1950s "ultimately involved costs in excess of original contractual estimates of from 300 to 700 per cent."
Another institution that sprang up in 1969 was National Action/Research on the Military-Industrial Complex, a project of the American Friends Service Committee in Philadelphia, a clearinghouse for information on the military, business and universities that eventually produced its own pamphlets and videos. Its research was also instrumental in an early project of the Council on Economic Priorities, a think tank founded in 1969 in Washington, D.C. by a young former stockbroker named Alice Tepper.
Over the following decades the Council-often with funding from labor unions, the Carnegie Corporation, and the Ottinger Foundation, among others-would publish a number of books on different aspects of the MIC: "Military Maneuvers: an analysis of the interchange of personnel between defense contractors and the Department of Defense" (1975); "B-1 Bomber: An analysis of its strategic utility, cost, constituency and economic impact" (1976); "Iron Triangle: The politics of defense contracting" (1981); "Military Expansion, Economic Decline" (1983).
Yet it was a CEP book published in the fall of 1970, "Efficiency In Death," that in many ways crystallized thinking about the MIC and gave it a lasting impact. Produced with research from the American Friends Service Committee, "Efficiency In Death" focused exclusively on the manufacture of antipersonnel weapons, primarily cluster bombs, which were designed to kill human beings as opposed to destroying property and military installations.
After some introductory description, the book consists almost entirely of information about the hundred largest private companies involved in the manufacture of these weapons. A few of the larger firms, such as Honeywell (HON, Fortune 500) and Sperry-Rand, were well-known general military contractors--but many were familiar manufacturers of everyday products: among others, the Bulova Watch Company, General Motors (GM), Motorola (MOT, Fortune 500), Rubbermaid, Uniroyal and Whirlpool. Nearly all the data was presented with the dispassion of a Wall Street analyst's company report, yet the implication was clear: invest in, work for, or patronize these companies, and you are complicit in the horrible, burning death of civilians in Vietnam.
What Tepper and her colleagues were doing with the MIC went much further than the time-honored boycott; they were suggesting that the tools of activism could be melded to the tools of investing to make participation in war unattractive from the point of view of corporate finance. This was the beginning of what would become known as "socially responsible investing."