China's economy roars. Why do its stocks stink?
NEW YORK (CNNMoney) -- The Federal Reserve is taking a lot of heat for QE2 and other easy money policies. But anyone that wants the Fed to start tightening anytime soon should take a look at China to see how well investors react to rising rates.
The Shanghai Composite plummeted 3% Monday, a delayed reaction to Friday's move by the People's Bank of China to boost the reserve requirement ratio for banks. This is the seventh increase since 2009 as China's central bank seeks to cool down its roaring economy.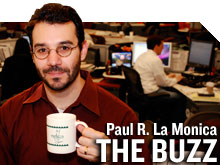 And Monday's slide is a continuation of a trend. The Shanghai Composite has fallen more than 10% since the start of 2010. At the same time, the S&P 500 has gained over 15%.
That's proof positive that the performance of the stock market isn't often a reflection of economic strength or even the health of corporate profits. It's more about the expectation of where interest rates are headed.
It is an undisputable fact that China's economy is in better shape than the economy of the United States. Gross domestic product in China grew at a 9.6% annualized rate in the third quarter of 2010. GDP in the U.S. during that same period was a mere 2.6%.
But the robust growth in China is creating some headaches, notably worries about inflation and asset bubbles.
China is clearly showing the world that it does not want its economy to overheat. The People's Bank of China is trying for the proverbial (and not easy to engineer) soft landing. Investors are skeptical.
"China's market will only move higher after it looks like inflation has been tamed," said Subodh Kumar, an independent market strategist based in Toronto. "China is taking the right steps but it's hard to say if it will work or if it's too late."
Interest rate hikes and higher reserve requirements for banks may not be enough though. Some argue that China could better combat inflation by letting its currency (the yuan) trade more freely. A stronger yuan could help lower the cost of many commodities, notably oil and agricultural products.
As fate would have it, the exchange rate issue is expected to be a topic of conversation when China's president Hu Jintao visits Barack Obama at the White House later this week. There are even some calls in Congress to crack down on China and other countries accused of currency manipulation.
Albert Meyer, manager of the Mirzam Capital Appreciation Fund in Tequesta, Fla., is hopeful that China will eventually take even more steps to let the yuan rise because Chinese officials know that's the smart thing to do economically.
The problem, he says, is that China doesn't want to make it seem as if it's being bullied into doing so.
"I think that China doesn't want to be viewed as placating the U.S. or bowing to pressure. But it is in their own interest to allow their currency to strengthen especially since they import a lot of raw materials," Meyer said.
Meyer, whose fund owns shares of several top Chinese companies, including China Mobile (CHL), Aluminum Corporation of China (ACH), PetroChina (PTR) and Yanzhou Coal Mining Company (YZC), said that he does believe Chinese stocks should recover once investors feel that inflation is under control.
He warns though that the Shanghai Composite, which is home to many hot Chinese initial public offerings, could be a lot more volatile than Hong Kong's Hang Seng Index. The Hang Seng has actually held up a lot better in recent months despite inflation fears.
Kumar points out that once China's market does recover, it's likely that investors will start wondering about when the Fed will finally begin to consider raising interest rates in the U.S.
For now, few believe any rate hikes are likely until 2012. Kumar said he does worry though that the market is ignoring the recent increase in the price of oil and other commodities and what they say about inflation. That could force the Fed's hand sooner rather than later.
And the drop in China's market should serve as a sobering reminder about what happens to stocks in a rising rate environment.
As much as people like to complain about the Fed at a time when stocks are actually going up, just imagine how much groaning there will be once inflation is a bigger worry in the U.S. and Ben Bernanke & Co. have to react to that by boosting rates.
-- The opinions expressed in this commentary are solely those of Paul R. La Monica. Other than Time Warner, the parent of CNNMoney, and Abbott Laboratories, La Monica does not own positions in any individual stocks.