Even budget deficits are bigger in Texas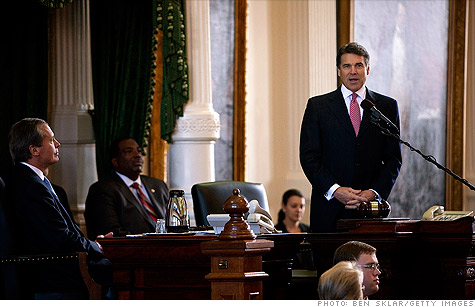 NEW YORK (CNNMoney) -- Texas lawmakers unveiled a Spartan budget late Tuesday night that slashes $31 billion in spending to close the state's massive budget deficit. Education, Medicaid and corrections would be hit particularly hard.
House legislators were forced to rely on spending cuts to close the shortfall -- estimated at between $15 billion and $27 billion -- because Republican leaders pledged not to raise taxes. They also did not touch the state's projected $9.4 billion rainy day fund, one of the most flush in the nation.
The spending plan calls for a 13% hit to public education and a 7.6% drop in higher education support. Among the cuts, funding for pre-K Early Start programs would be slashed, and four community colleges would be closed.
Such a drastic decline in public education support could be problematic because it would drop the education budget below a level mandated by the state, and force the legislature to change the law.
Health and human services would see funding plummet by nearly a quarter, while government services would fall by almost the same percentage.
Nearly 9,300 government jobs would be eliminated and Medicaid providers would see a 10% rate reduction. Fewer residents would receive meal deliveries and services to keep them in their homes. Some 60,000 students would lose financial aid for college.
Funding for defending the poor in court would drop by 15%. And the department that supervises and supports parolees would by cut by nearly 21%.
Change of fortune
One reason for the harsh cuts is the end of federal stimulus funds for the states. Texas had included $6.4 billion in stimulus money during its most recent 2010-11 budget. The new spending plan does not replace these funds with state money.
Until now, Texas had weathered the Great Recession fairly well, buffered by its vast oil and gas industries. It avoided the housing industry meltdown and its unemployment rate is below the national level. It also benefited from having a two-year budget cycle so officials have not had to craft a spending plan since 2009.
But it is now facing the same revenue declines that have plagued most states in the union. The comptroller last week estimated Texas would only have $72 billion in general revenue available for this fiscal 2012-13 budget, down from $87 billion two years ago.
What's more, Texas would have to spend an additional $12 billion over the next two years just to maintain services at their current levels.
The budget crafted by the state's Legislative Budget Board is the first step in a long process to determining a spending plan. Lawmakers will weigh in, as will Gov. Rick Perry.
Outrage from advocates
The harsh budget proposal was slammed from many sides soon after it was circulated to lawmakers late Tuesday night. Democratic lawmakers and community advocates pressed legislators to tap into rainy day funds or raise revenues instead of relying only on spending cuts.
"We already know that the cuts-only approach taken in the proposed bill would hurt Texas families, cost us jobs, and undermine our economy recovery," said F. Scott McCown, executive director of the Center for Public Policy Priorities, which focuses on low- and moderate-income Texans. "With a revenue shortfall this large, as the proposed budget shows, the Legislature cannot balance the budget through cuts alone without doing terrible damage."
In a question-and-answer session with Rep. Jim Pitts, who is introducing the House budget bill, lawmakers pressed him to consider tapping the rainy day fund instead of taking away vital services from residents. Pitts said that could be an option if enough legislators vote to do so.
Democratic lawmakers blasted the budget at a press conference Wednesday afternoon, saying that it would have a devastating impact on Texas families. Schools would be forced to close and a college education would fall out of reach for many people.
Also, the Democrats said, the spending plan assumes no growth in demand, even though the governor is trying to lure more businesses and people to the Lone Star State.
"Today's budget is not good for the state of Texas," said Rep. Sylvester Turner.
But others say that the state must limit its spending considering the drop in revenues.
While the budget contains significant cuts, it is manageable, said Talmadge Heflin, director of the Center for Fiscal Policy at the Texas Public Policy Foundation. Schools, for instance, have largely been spared in the past, and they can look to cut personnel outside of the classroom. And colleges have other sources of revenue, such as tuition and fees.
"Texas families have had to set priorities and make difficult decisions in order to live within their means," he said. "The introduced budget is a positive sign that the Texas Legislature is committed to doing likewise."