U.S. companies fear the Chinese New Year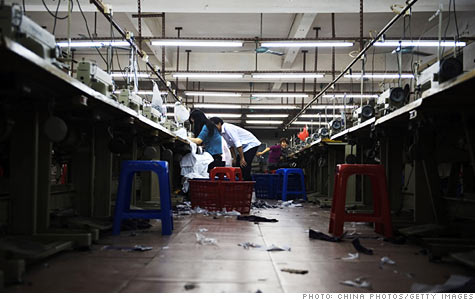 NEW YORK (CNNMoney) -- The Chinese New Year, which is just two weeks away, is making at least one American retailer very anxious.
"In China, everyone goes home for the Chinese New Year holiday," said Mona Williams, vice president of buying for Texas-based The Container Store, a haven for storage and organization products.
That means the hundreds of thousands of factories in the world's workshop that make everything from toys to televisions will shut down for 15 days straight.
This annual work stoppage isn't a new phenomenon but it's definitely getting more attention from U.S. businesses this year. They fear that of the millions of migrant Chinese workers that travel home for the holiday, many won't come back to their factory jobs.
This is particularly troubling since even in the months leading up to the holiday, a chronic labor shortage in China is causing supply shortages in American stores.
Some storage products, such as wire mesh pencil holders and drawer organizers that are popular sellers at The Container Store are tougher to find.
"In the last four to six weeks, we've got no shipment at all. That's millions of dollars in lost sales day for us every day." Williams said
One of Container Store's key suppliers recently shifted all his manufacturing back to the U.S. because he didn't have enough workers in China.
"He still had a manufacturing plant in the U.S.," said Williams, explaining that he restarted production at the domestic plant. "He'll get product to us again in a month," she said.
Williams says othervendors who rely on Chinese factories for making their products have issued a new warning: Typically supplies are delayed due to the holiday, but this year those delays will be a few weeks longer, if they ship at all.
"We'll know more after the New Year," said Williams.
Jitters spread: "Several of my clients are going through the same dilemma as The Container Store," said Pratap Mukharji, partner with consulting firm Bain & Co., whose clients include consumer goods companies.
China is no longer the lowest-cost, "infinite supply" sourcing destination for many American companies, said Mukharji.
For Chinese blue-collar workers, there's an evolution underway, said Henry Hu, a Hong Kong-based consultant to Chinese manufacturers.
Labor laws designed to increase wages plus rising energy and raw material costs have already taken the shine off China.
Add to that, government incentives to keep peasants -- China's main labor force -- inland to work on farms instead of abandoning them for the big coastal manufacturing hubs has made the "Made in China" tag much more expensive.
Bruce Cohen, partner with Kurt Salmon, a consulting firm specializing in retail and consumer products, said his retail clients are seeing as much as a 10% to 15% year-over-year increase in how much it's costing them to buy goods made by Chinese vendors.
The type of work the Chinese are willing to do is changing, too. "As the quality of life in China improves, even factory workers are aspiring to find better-paying jobs," said Hu.
Workers who previously made T-shirts and socks are now looking for higher-paying jobs in the service industry or hi-tech and auto manufacturers.
"There's a hi-tech client of mine that is hiring 5,000 workers weekly in China," said Mukharji.
"You have a tsunami of unprecedented force that's developing at a very challenging time for the U.S. economy," said Cohen.
Therefore, Cohen is advising his clients who source in China to not put all their eggs in the China basket even though China will still be their best bet for some products.
In clothing, for example, that shift is underway, said Mukharji. "If you look at a T-shirt tag lately, you don't see "Made in China" as often anymore. "You'll see Vietnam, Indonesia, Bangladesh, Costa Rica."
Manufacturing of high-margin clothing goods such as denim and swimwear is growing in southern California.
"Ordering these items from China can take 12 to 16 weeks," Cohen said. But by making these items domestically, retailers can replenish their inventory much faster.
Some electronics manufacturers are shifting some production to Mexico. Others are bringing production of household goods back to the United States.
The Container Store is looking for alternatives to China, including Vietnam, Indonesia, India and Thailand.
"We also source 30% of our plastic products in the United States," said Williams.
"We want the best quality products. Sometimes that's still only found in China," she said. "But for us, a delay in shipment, or no shipment is also a serious problem."