Gas prices high - and might get higher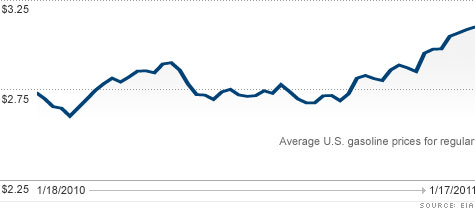 NEW YORK (CNNMoney) -- Strong worldwide oil demand and lack of supply are to blame for steadily rising gasoline prices in the United States, an oil industry group said Friday.
The American Petroleum Institute made no specific price forecast for 2011, but didn't seem to see a drop anytime soon.
"Unless we see increases in supply, it's hard not to see a tighter market," John Felmy, the institute's chief economist, said in a conference call with reporters.
Felmy said worldwide oil demand in 2010 hit a record of more than 87 million barrels a day, driven largely by strong growth in India, China and the Middle East.
Supply, meanwhile, was constricted by the drilling moratorium in the Gulf of Mexico following the BP disaster, slow production growth in non-OPEC countries, and OPEC production controls.
The government's Energy Information Agency estimates that the drilling moratorium in the Gulf will curtail oil production by about 120,000 barrels a day in 2011. The moratorium has been lifted, but new permits have been slow in coming.
OPEC holds just under 5 million barrels a day in production capacity that it is leaving in the ground.
Gasoline price have risen 12 cents a gallon, or 4%, in just the last month, according to the motorist group AAA. The nationwide average stands around $3.12 a gallon, less than a dollar below the record high.
Over the last year, prices are up 39 cents a gallon, or 14%. Crude oil is up by a similar percentage, currently trading at just under $90 a barrel.
Felmy's view that higher demand is causing rising prices is common in the industry and among financial analysts, but it's not uniformly held.
Other analysts have pointed out that thanks to new investments in supply, the difference between what the world can produce and what it actually consumes is about 5 million barrels a day. That's much higher than the 1-million-barrel-a-day margin seen in 2008, when oil hit a record $147 a barrel.
Those analysts argue that there is no supply problem, and the rising prices are instead due to rising interest in crude oil as an investment.
"Demand is not outpacing supply in the physical market," said Tim Evans, a futures analyst at Citigroup. "Demand is outpacing supply in the paper market, in the futures market."
Evans said supply growth actually outpaced demand growth in 2010, and noted that oil inventories are still above average, an indication that OPEC production caps are not restricting supply.
"The market focus is on how much more they can bleed consumers," said Evans, not on what price is needed to ensure an adequate supply in the future.
Felmy rejected the notion that oil investors were unduly influencing price, saying that if oil prices were artificially high there would be an overabundance of supply.
Instead, he said that inventories, while high, are falling. He also said that most of that 5 million barrels in extra capacity is in OPEC countries, where it's not subject to market fundamentals and can't be brought to market quickly.
"It's probably the right price, supply equals demand," he said. "It really is mostly market fundamentals."
Rayola Dougher, senior economic advisor at API, noted the slim margin refiners are making off a gallon of gas.
She said the cost of oil currently makes up $2 per gallon, while taxes average about another 48 cents. That leaves just over 50 cents a gallon for the refiner, distributor, and gas station to cover costs and make a profit.
Gasoline prices crossed the $3 threshold late last month for the first time since October 2008.
The all-time record high is $4.114 a gallon, set in July 2008. At the time, economists said the record prices were crimping consumer spending, and probably contributed to the economic downturn.
Many analysts are concerned that with gas prices above the $3 level in the winter, not typically a high-price season, they will spike come spring time, when demand historically has been higher.