Pouring gas on an economic recovery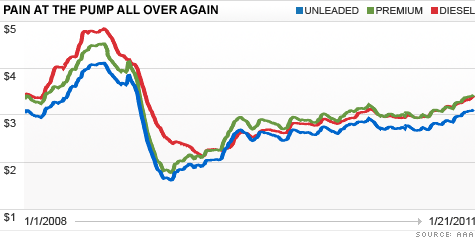 NEW YORK (CNNMoney) -- The U.S. economy is slowly but surely nursing itself back to health.
But even though many economists are boosting their GDP forecasts for 2011 due to the extension of the Bush-era tax cuts and continuation of the Federal Reserve's easy money policies, there is one big wild card that could put a swift end to the rebound. Gas prices.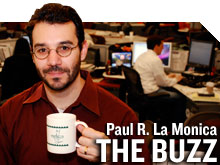 In case you've been unable to dig out your car from the numerous snowstorms blanketing the country and haven't driven in awhile, you may not have noticed that the average price of gasoline nationwide has steadily crept higher over the past few weeks.
Gas prices hit nearly $3.12 a gallon Friday, according to motorist group AAA. That's less than a dollar below the all-time high of about $4.11 a gallon in July 2008.
If gas prices remain at these levels, that probably won't hurt consumer spending too much. The problem is that prices may have not come close to peaking just yet.
With the Fed committing to purchase bonds (its hated quantitative easing program) through June, some economists think that will set the stage for a weaker dollar and higher energy prices leading into the summer.
That could be bad news, since demand for gas tends to increase, putting further upward pressure on prices, as the temperature climbs and people drive more.
"If gas gets to $3.30 a gallon by spring break, I'm worried that we could approach the record highs by the summer," said Michael Hicks, director for the Center for Business and Economic Research at Ball State University in Muncie, Ind. "Because of the monetary policy environment, it would be very easy for prices to rise very quickly."
Hicks said that if gas prices were to head above $4 a gallon again, that could lead to a cutback in consumer spending. That, in turn, could lead companies to put the brakes on hiring.
"If gas prices rose another $1 from here, a recovery could be much more muted than it would be otherwise. The economy could stall," Hicks said.
That is clearly disconcerting. And some argue that as long as the Fed is intent on inflating its way out of the current economic slump, consumers are going to get squeezed even more at the pump.
"I think the fact that the Federal Reserve is focused on core inflation and not food and oil is a colossal mistake," said Jeffrey Sica, chief investment officer of SICA Wealth Management, an investment firm in Morristown, N.J. "It has artificially inflated the price of energy and agricultural commodities."
Making matters worse, a member of the Fed hinted that QE2 could create even more headaches.
Philadelphia Federal Reserve president Charles Plosser, speaking in Santiago, Chile, earlier this week, said "the notion persists that activist monetary policy can help stabilize the macroeconomy against a wide array of shocks, such as a sharp rise in the price of oil."
But he added that he actually thinks "monetary policy's ability to neutralize the real economic consequences of such shocks is actually quite limited" and that "policy actions could actually make things worse over time."
In what appears to be a direct response to those who argue that the rise in oil and other commodities over the past few months is due to the Fed's actions, Plosser said that " [monetary policy] cannot help keep gasoline prices at low levels when the price of crude oil rises to high levels."
Of course, rising gas prices can't be blamed entirely on the Fed. There is the indisputable fact that higher demand from China, India and other developing markets is also contributing to the spike. And that's unlikely to change.
"As people in emerging markets get wealthier, they want to consume just like we do. They want to buy cars," said James Angel, a professor of finance at the McDonough School of Business at Georgetown University in Washington, D.C.
Angel argues that oil and gas prices are just returning to where they should be, following the irrational run to record highs in summer 2008 and equally irrational sell-off in the wake of the credit market's collapse later that year.
That may be true. But there's no denying that an unfortunate byproduct of the economic strength in other markets is that U.S. consumers get penalized at a time when the domestic economy is still fragile.
"Oil prices are almost like a tax," Sica said. "Prices may increase to such a level that a lot of the positive sentiment consumers and investors have about the recovery may soon begin to wane."
Reader comment of the week: I devoted three columns to the topic of China this week in light of President Hu Jintao's visit. The one that got the biggest response from readers was the one about why I think the U.S. needs to be somewhat careful in how it treats China because it is our largest foreign creditor.
One reader astutely put things in perspective though, pointing out that China's nearly $900 billion stake in Treasuries is still relatively small.
"China's holdings equal about 7-8% of total US debt. That's it. A few years of anything approaching a balanced budget should set fears to rest," wrote Vincent Lovece. "Also, if China somehow does do us great economic damage, they lose the market they need the most to keep going."
I agree completely. The U.S. doesn't have to necessarily kowtow to China because China does need us. But it would still be nice to see the rhetoric from some members of the White House and Congress cool a bit more.
-- The opinions expressed in this commentary are solely those of Paul R. La Monica. Other than Time Warner, the parent of CNNMoney, and Abbott Laboratories, La Monica does not own positions in any individual stocks.