What Obama needs to say
NEW YORK (CNNMoney) -- After a self-described "shellacking" in November, President Obama is likely to talk a good game about the economy during Tuesday evening's State of the Union address.
But will Obama please investors? It's going to be tough.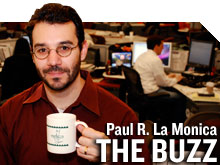 On the one hand, the president has to show that he's serious about getting the unemployment rate lower. At the same time, any talk of new stimulus programs or other major increases in government spending won't go over kindly either.
"He's going to highlight the economy and underscore the commitment of the administration to boosting the expansion. Above all else he will have to focus on job creation," said Quincy Krosby, market strategist with Prudential Financial in Newark, N.J.
"But he will also have to talk about deficit reduction. It is clearly on the minds of Americans as well," she added.
Therein lies the proverbial rub. Investors (and voters) are obviously not pleased with an unemployment rate that's still close to double-digits. But nobody wants to hear about how Washington can fix the short-term ills of the economy with an open checkbook either.
The challenge for Obama will be in showing the country that there is a plan to tackle the near-term challenges without crippling the nation further in the long-term with an onerous debt burden.
"What's needed now is not a plan to cut spending today but to cut the deficit gradually over time as the economy strengthens," said Kate Warne, chief market strategist with Edward Jones in St. Louis. "It's more about incremental moves and less about sweeping reform."
Market strategists said they will be keeping a close eye on the speech for any further evidence that Obama is truly serious about helping businesses grow.
There is still a fair amount of skepticism given some of the more populist comments made about banks and other big businesses during the worst of the recession.
Investors are also worried about what impact the healthcare and financial reform bills passed during Obama's first term will have on profits in both sectors going forward.
"Investors are nervous about regulatory overhang and are worried that even though Obama may say one thing, he may do something else," said Doug Roberts, chief investment strategist for ChannelCapitalResearch.com, an investment research firm based in Shrewsbury, N.J.
But Obama has taken a softer stance following the mid-term elections, arguing in an editorial in The Wall Street Journal against "dumb" regulation and appointing General Electric (GE, Fortune 500) CEO Jeffrey Immelt to replace Paul Volcker as head of a White House economic advisory council.
That last olive branch to Corporate America has been viewed favorably so far.
"Appointing someone who is the head of a large source of manufacturing jobs and has experience dealing with China to this council is a big plus," said Diane Jaffee, manager of the TCW Relative Value Large Cap and TCW Dividend Focused funds in New York. Both funds own GE.
It's interesting. It's often said that investors want gridlock, that when nothing gets done in Washington, that's the best environment for the markets and economy.
Still, the wounds of the recession are so fresh and it's clear that government needs to do something to address the nation's continued economic problems. The hope is that it's done in a productive fashion.
"Investors want to hear more of what we've seen since the election, a sensible balanced approach in Washington instead of big initiatives that create uncertainty," Warne said. "There is some common ground between Democrats and Republicans."
Nonetheless, market experts said that the only way for Obama to convince investors that he is really moving more toward the center is for him to endorse the idea of lower taxes for businesses for the long haul.
"The number one impediment to growth right now is the uncertainty about tax policy going forward. It really puts small businesses at a disadvantage," said Lee Partridge, chief investment officer with Salient Partners in Houston. "If there's any hint that there will be permanency on taxes and more pro-growth policies on taxes, that would be huge."
Partridge isn't holding his breath for such a proclamation though. He pegs the chances of Obama making a proposal in the State of the Union to make the so-called Bush era tax cuts permanent at just 20%.
Still, it all comes back to jobs. As much as the deficit has become a hot political issue in recent months, one strategist said all the haranguing about Washington's addiction to debt may be forgiven -- if not necessarily completely forgotten.
"The stock market is up 93% in the past 22 months but as I go around the country talking to investor groups, there is this lack of recognition that things have gotten better," said said Phil Orlando, chief equity market strategist at Pittsburgh-based Federated Investors. "The average person still thinks the world is coming to an end."
"Once jobs start getting created people will realize things are better today than in the end of 2008 when the economy looked legitimately scary," Orlando added.
-- The opinions expressed in this commentary are solely those of Paul R. La Monica. Other than Time Warner, the parent of CNNMoney, and Abbott Laboratories, La Monica does not own positions in any individual stocks.