The end of credit cards is coming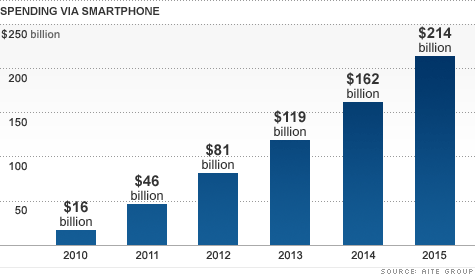 NEW YORK (CNNMoney) -- Credit cards may soon be as outdated as vinyl records. (Remember those?) And this is the year that the slow, steady march to oblivion begins.
You can already use your iPhone, Droid or BlackBerry to buy a hotdog at the ballgame, buy your Starbucks latté, or give a friend a few bucks by Bumping phones. But by the end of the year you may not even think twice about reaching for your phone to pay at the register instead of fumbling for your credit card.
"Your plastic card hasn't changed since the age of the vinyl records," said Michael Abbott, CEO of Isis, a new mobile payment network. "This is the chance to bring payments forward from the plastic age and the vinyl records age to the digital age."
While companies have been experimenting with contactless mobile payments for years, 2011 is expected to be the year the technology really takes off. That's because millions of phones capable of making contactless payments are expected to be shipped out in 2011.
As a result, this pay-by-phone market is forecast to make up $22 billion in transactions by 2015, up from "practically none" last year, according to research firm Aite Group.
"Mobile payment is going to get really interesting and is going to see a lot of activity in 2011," said George Peabody, director of emerging technologies at Mercator Advisory Group. "We're going to start seeing more and more people leaving their homes without their wallets."
But that doesn't mean it's going to happen overnight, said Jane Cloninger, director at Edgar Dunn & Co., a consulting firm specializing in financial services and payments.
"I definitely believe that the mobile wallet will eventually replace the plastic card -- but it's going to take some time because consumer habits take a long time to change," she said. "But where before it's been a lot of discussion, we're at the point now where you're going to start seeing momentum toward it and going to see it move beyond the trials and into reality."
Companies including Visa, MasterCard, Google, Bank of America, Citi and U.S. Bank are all testing contactless mobile payments, and many expect to roll out mobile wallets this year.
"2011 is going to be a very exciting, very dynamic year when it comes to mobile payments because it's the Wild West again, with all these players positioning in various different ways to redefine the digital payments landscape," said Michael Upton, senior vice president of online and mobile banking at Bank of America, which expects to launch it own mobile wallet later this year.
Meanwhile, AT&T, T-Mobile and Verizon joined forces with Discover and Barclays in November to form Isis and provide a rival to Visa and MasterCard.
"It's a glorious competitive battle amongst some of the largest entities in the country," said Peabody.
The Isis mobile wallet will let consumers store multiple cards, make payments with the wave of their phone, check balances, receive coupons and use rewards points at the point of sale. But it may stretch beyond just the money in your wallet. Abbott sees the potential to include your insurance cards, driver's licenses, and other information typically found in a wallet.
"[Payment] is where we're going to start, but where it goes is wide open to the innovation of other players who want to be involved," he said.
Beth Robertson, a payments analyst at Javelin Research and Strategy, said that could mean developing ways for consumers to make contactless ATM withdrawals by simply waving a phone in front of an ATM as you would at the point of sale.
But because of just how much your smartphone now holds, it's quickly becoming your most dangerous device.
"We're increasingly living our lives on our cell phones...The problem is that we're not yet used to thinking about our wallet in terms of our phone," said Ed Goodman of Identity Theft 911. "No matter how good security on any type of mobile banking or payments, there are going to be people who are able to find a way around it -- it's really all about making sure everyone ramps up their awareness."