Treasuries hold gains after 2-year note auction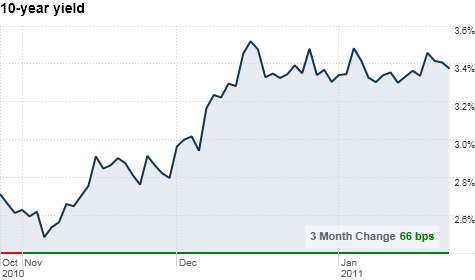 NEW YORK (CNNMoney) -- Treausury prices continued to firm Tuesday following the sale of $35 billion in 2-year Treasury notes but remained in a narrow range as investors digested mixed economic news.
The price on the benchmark 10-year note rose slightly, pushing the yield down to 3.38% from 3.41% late Monday. Bond prices and yields move in opposite directions. The yield on the 30-year bond fell to 4.53%, while the yield on the 2-year note edged down to to 0.63%. The 5-year note's yield slipped to 2.00%.
Treasuries got an early boost after the British government reported that the U.K. economy unexpectedly contracted during the fourth quarter of 2010 and an industry report showed that home prices continued to slump in November. The worse-than-expected data increased demand for government bonds, which are considered safe haven investments and are more attractive in a rocky economy.
Prices drifted into negative territory for a brief period after the Conference Board said that consumer confidence is at the highest level since May 2010 before rising again.
While the improving sentiment is promising, the question of whether or not the economy is materially improving is still open, said Richard Bryant, head of Treasury trading at MF Global.
"The real key will be a recovery in the labor market, and we have yet to see a report that has convinced the market that the economy is creating enough jobs to turn the corner," said Bryant, adding that Treasury prices are likely to remain range bound amid current conditions.
President Obama is scheduled to deliver his State of the Union address Tuesday night, during which he is expected to talk about the health of the U.S. economy -- especially the labor market.
The first of the week's debt sales totaling $99 billion this week got off to a solid start. The Treasury auctioned $35 billion in 2-year notes Tuesday. The bid-to-cover ratio, a measure of demand, came in at 3.47. The government is planning to sell $35 billion in 5-year notes Wednesday and $29 billion in 7-year notes Thursday.
Meanwhile, the Federal Reserve convened for its first meeting of the year on monetary policy. While investors aren't expecting a change in interest rates at the conclusion of the meeting Wednesday afternoon, they will be paying close attention to the central bank's statement and economic outlook.