Consumer rebound: No 'sugar rush' - it's 'protein'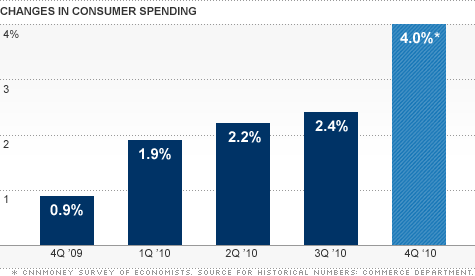 NEW YORK (CNNMoney) -- American consumers are finally opening their wallets again, according to an exclusive CNNMoney survey, raising hopes that the long-suffering economy could get a boost.
The survey of 27 leading economists forecasts that personal consumption, a measure of consumer spending, jumped by 4% in the fourth quarter. If that forecast is correct, it will be the strongest increase in that key reading since 2006.
"Those who were employed during the recession were often afraid of spending due to fears of losing their jobs," said Jharonne Martis-Olivo, director of consumer research for Thomson Reuters. "I do think they opened up during the fourth quarter."
The bullish outlook for consumer spending is the reason why economists now forecast that Friday's reading on gross domestic product, the government's main measure of the economy's strength, grew at a 3.5% annual rate in the fourth quarter -- a significant increase from a 2.6% rise in the previous quarter.
"You won't see this kind of pop every quarter -- we're not going to have Christmas again in the first quarter. But the worst is over," said David Wyss, chief economist at Standard & Poor's. "I think there has been a corner turned here."
The spending improvements are broad-based, including a strong holiday shopping season and a rebound in demand for new cars. Consumers finally bought big-ticket items that they had held off on during the recession, with Thomson-Reuters forecasting a 24% annual rise in spending for such purchases.
"There was a big release of pent-up demand in the fourth quarter that has been building up for a couple of years, at least," said George Mokrzan, senior economist, Huntington National Bank, who is forecasting that personal consumption jumped by 4.5% in the period.
He expects the gains in consumer spending to continue throughout 2011 as employers add more workers to meet increased demand, and workers benefit from the partial holiday in payroll taxes and greater credit availability.
Improvements in the stock market have also helped give consumers more confidence, reducing the drive to choose saving over spending. The savings rate, which had climbed to 7.2% in early 2009, had fallen to near 5% by the end of 2010.
"People got bored with being frugal. It's much more fun to go out there and spend money," said Wyss.
The 3.5% growth forecast for GDP is solid but not spectacular -- the economy grew at a faster rate at the end of 2009 and the start of 2010. But those gains came with little help from consumers, driven instead by government stimulus spending and a restocking of business inventories that had been slashed during the recession -- what Robert Brusca of FAO Economics calls a sugar rush.
"This growth isn't a sugar rush. It's protein," he said of the current strength of the recovery. His prediction for personal consumption is the most bullish -- up 4.7% -- even though he's expecting a more modest 3.8% gain in overall GDP.
"There are all kinds of little indicators like this that suggest people who have jobs are more secure and starting to spend," Brusca said.