China accuses Wal-Mart of 'deceptive prices'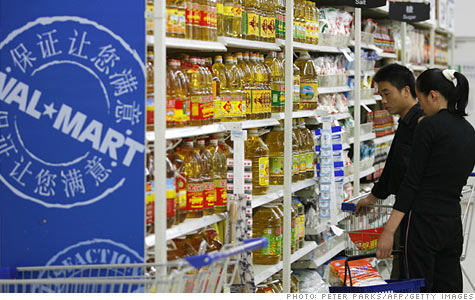 NEW YORK (CNNMoney) -- China has accused Wal-Mart, the world's largest retailer, and its French competitor Carrefour of price gouging and misleading consumers by advertising false discounts on goods sold in their stores.
The National Development and Reform Commission (NDRC), the Chinese agency that coordinates economic and social development, made those charges in a statement posted on its website on Wednesday.
The agency said it will "severely deal" with offending stores, with the option of imposing maximum fines of up to $76,000 for pricing violations in the country.
However, it was unclear from the statement if the fines were on each separate incident of a violation. It was also unclear how many Wal-Mart and Carrefour stores were found to have allegedly violated China's pricing laws.
Further, the agency advised all supermarkets, department stores and other retail operators in the country to "immediately form committees to check for any inconsistent pricing, promotion or labeling" of products sold in their stores.
The agency cited specific examples where Carrefour and Wal-Mart either overcharged their consumers or inflated the original price on products that made the discounts on those goods deeper than they actually were.
At a Carrefour store in Changchun City, the store discounted men's cotton undershirts to $7.70, down from an advertised original price of $25.66. The agency said it verified the original price to be $18.07.
At a Wal-Mart (WMT, Fortune 500) store in Nanning City, a box of Nescafe coffee was priced at $5.44, discounted from an "original" price of $6.67. The agency said it verified the original price to be $5.66.
The agency said these pricing discrepancies were brought to its attention by consumers and are in violation of its price law.
Kevin Gardner, spokesman with Wal-Mart's international corporate affairs, said the company continuously pays close attention to pricing and actively organizes training sessions on price regulations.
"We always welcome our customers' attention and supervision. At our company, over 700 dedicated price checkers check over 1 million prices every week," Gardner said in a statement e-mailed to CNNMoney.
"Currently, tens of thousands of pieces of merchandise are part of the busy Chinese New Year seasonal promotion. During this period, our dedicated team will conduct thorough investigations of cases relating to pricing issues while further strengthening the supervision of commodity pricing," the statement said.
Wal-Mart did not specifically address China's accusation or the fines against its stores.
Both Carrefour and Wal-Mart are two of the biggest foreign retailers in China. Wal-Mart operates more than 300 stores in China while Carrefour operates close to 200 stores in the country.
Carrefour could not immediately be reached for comment.