Small biz accounting site InDinero adds new tools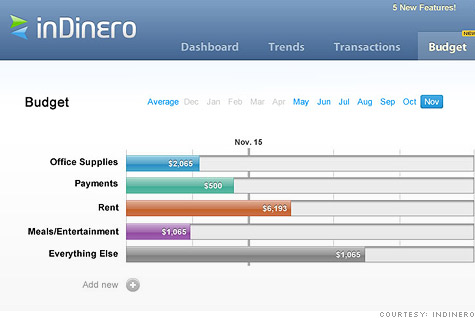 NEW YORK (CNNMoney) -- InDinero, a "Mint.com for small businesses," has had a wild run since its launch in July: It now has 10,000 users, a slew of media coverage and a $1.2 million in financing.
The grad of venture firm Y Combinator has received glowing reviews about its snappy and simple visual interface. Setup takes less than three minutes, and InDinero pulls in past transactions from businesses' debit, credit and checking accounts.
Now, six months into its lifespan, InDinero is starting to expand.
The site is launching budgeting functionality on Thursday, automatically calculating a financial plan for the month based on past expenses. (Users can also manipulate the budget manually.)
Founder Jessica Mah says it's a feature her customers sorely need -- even if they don't yet realize it.
"People sent in their so-called budgets, and they were half-done Excel spreadsheets," Mah says. "We were trying to figure out why they were so terrible."
The challenge, Mah says, was to create an intelligent budget that keeps users engaged. The automatic budget aims to keep it simple with a few line-item categories like payroll and office supplies, though users can add new ones.
InDinero keeps track of the budget each day, displaying data in the dashboard, and users can also receive e-mail updates.
"The goal is to get people engaged at least once a month," Mah says. "On sites like Mint, you don't hear about it if you miss or meet your budget. We want to keep people motivated."
Lack of motivation and limited time was what brought small business owner Calvin Williams Jr. to InDinero seven months ago.
"Quickbooks was time consuming, and I didn't want to be dependent on a bookkeeper's schedule," says Williams, the CEO of Web design company XMGOnline.com in Greensboro, N.C.
Before InDinero added a budget feature, Williams says, "it felt like there was a major aspect missing. Now I think slightly bigger companies will come in droves."
Mah hopes that's true, and that the new feature will help InDinero continue to grow. The site now has more than 10,000 users and tracks more than $2 billion.
Basic accounts are free, but businesses with more than 50 monthly transactions will need to shell out $30 a month. An "enterprise" account, for companies with more than 500 monthly transactions, costs $100 a month.
InDinero recently hired two new employees, making it a seven-person team -- and the company now has an office, after working for months out of Mah's Mountain View apartment. So far they'd paid themselves nothing, but starting in 2011 they'll all receive $20,000 a year.
"After raising more than $1 million, we figured 20 grand a year wasn't too bad," Mah says. "I think that's a budget we can stick to for a while."