Facebook's 'sponsored stories' turns your posts into ads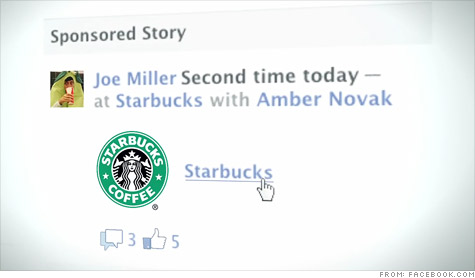 NEW YORK (CNNMoney) -- A new Facebook advertising product, "sponsored stories," plans to pull content out of members' posts for use in advertisements that will appear on their friends' Facebook pages.
Designed to build brand buzz, the ads draw on Facebook's "like" and "check-in" features, which site members can use to comment on restaurants, Web sites, events, products and other items they interact with throughout their day. Facebook plans to pull content from those dispatches to display in "sponsored story" segments that will show up in the site's right rail, where it often displays ads.
Here's the annoying part: You can't opt out. A marketing video Facebook made to promote its new offering shows a user's name, profile photo and comments about Starbucks appearing in a "Sponsored Story" ad for the coffee shop chain.
A Starbucks (SBUX, Fortune 500) representative was not immediately available for comment. An AdWeek article posted Tuesday -- the day Facebook began rolling the offering out to its clients -- identified Coca-Cola as one of the program's inaugural advertisers.
"What they let advertisers do is take these word-of-mouth recommendations and promote them," a Facebook engineer says in the marketing video. "We wanted to give a way for application developers, page owners, place owners to be able to promote their content that's as core to the user experience as the news feed."
But Facebook -- no stranger to privacy debacles -- is already facing a fusillade of criticism for not giving users the ability to block their posts from being used in ads.
In their marketing video, Facebook representatives play up the fact that only a your friends will see ads built around your content.
"Anything that one of your friends is seeing as a sponsored story which features some of your content is actually something they would have already seen in their news feed," a Facebook product manager says in the video. "A sponsored story never goes to somebody who is not one of your friends."
Great, so your private data doesn't leak. That doesn't solve the bigger problem: Many users are going to find this creepy.
"Facebook's latest advertising offering, Sponsored Stories, is characteristic of the company: bold, clever and lacking empathy," digital marketing consultant David Berkowitz wrote in an op-ed for Mashable about the offering.
Facebook stepped into boiling-hot water three years ago with its first attempt at mashing together user content and ads. Called "Beacon," the feature sucked in data from commerce-oriented external websites and posted it to users' walls. Intended to promote the merchants users chose to shop, Beacon backfired when users found their online purchases broadcast to their friends without their consent.
Beacon was the target of a lawsuit filed in 2008, and the service shut down in September 2009.