Governors put state jobs on the chopping block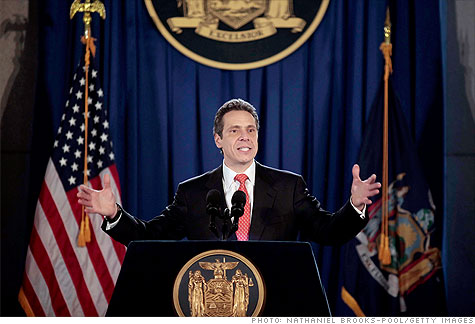 NEW YORK (CNNMoney) -- There will be lots more state workers joining the unemployment line this year.
Public employees are getting hit hard in the latest round of spending cuts as state officials look to close billion-dollar deficits. Governors across the nation are promising to eliminate thousands of positions and freeze or reduce salaries.
Texas lawmakers are proposing shedding 9,300 jobs, while Georgia's governor said he'd erase 14,000 positions. New York's governor is looking to lay off more than 10,000 workers and freeze salaries. And California's and Nevada's governors are proposing pay cuts of up to 10% and 5%, respectively.
Though state workers have suffered years of furloughs and downsizings, this year could prove to be the toughest yet. Federal stimulus money that kept many on the job is drying up, and some newly elected officials are bent on shrinking the role of the state.
"Many politicians have long talked about reducing the size of the government," said Georgia Gov. Nathan Deal in his State of the State address earlier this month. "My friends, we are doing it."
Public sector jobs were long thought to be more secure during economic downturns. But that's not been the case during the Great Recession. State and local governments have shed 397,000 jobs since August 2008, falling to their lowest level since the late 1980s, according to the Center on Budget and Policy Priorities.
Asking for more sacrifice
Shortly after taking office on Jan. 1, New York Gov. Andrew Cuomo said he would reduce his salary by 5%. Soon after, he called for a wage freeze for workers whose contracts are up April 1 to help the Empire State deal with a projected $24 billion budget deficit over the next two years.

"We have to start with an emergency financial plan to stabilize our finances, we need to hold the line and we need to institute a wage freeze in the state of New York," he said in his State of the State address.
Cuomo is also looking to cut more than 10,000 jobs from a payroll of 190,000, which would be the largest layoff in New York in years. His predecessor, David Paterson, shed 900 posts shortly before leaving office.
The state's unions, however, say there are other ways to address the budget shortfalls.
"We all understand the state's fiscal crisis and the need to find solutions, but any suggestion of reducing the state workforce by 10,000 to 15,000 would not only cripple the delivery of essential services, it would have a chilling effect on the state's economy and undermine the state's fragile recovery," the Public Employees Federation, the second-largest union, said in a statement. "We should all be working together to create jobs, not more layoffs."
In Texas, Gov. Rick Perry often boasts that his state leads the nation in job creation. But that doesn't include positions in state government.
The budget unveiled by House lawmakers last week calls for the elimination of 9,300 posts during fiscal 2011-2012. The department of public safety and criminal justice would be hit the hardest, losing 6.3% of its staff. The budget recommends closing a prison and three youth facilities.
But the job cuts would be spread across the board. For instance, some 565 caseworkers who investigate child abuse would lose their paychecks when stimulus funds dry up.

Meanwhile, Nevada Gov. Brian Sandoval is looking to avoid layoffs. Instead he wants state workers to give up 5% of their pay. The state, among the worst hit in the recession, is facing a $1.2 billion budget deficit for fiscal 2012. The pay cuts replace a furlough program that temporarily sliced 4.6% off of employees' wages. But the suspension of merit and longevity pay remains in place.
The governor tried to soften the blow by saying that he and his staff would take the same pay cut. He also pointed out that the salary reductions mean more people would get to keep their jobs.
"I believe this is a far better alternative than the mass lay-offs chosen by other state and local governments," he said in his State of the State address Monday.
Someone has to do the job
Shedding thousands of state workers is easier said than done, experts said. Someone still has to process driver's licenses, patrol the highways and take care of state parks.
In some states, such as Georgia, many of the positions to be eliminated are vacant. In others, such as New York, the layoff proposal comes as union contracts are about to expire and could be used as a bargaining chip.
Governors are more willing to cut public employees than trim programs, said Steven Kreisberg, director of collective bargaining for the American Federation of State, County and Municipal Employees, which has 1.6 million members.
"It's easy to say and it's a great applause line," he said. "But there is work there to be done."