Dow, S&P 500 close at highest levels in 2 years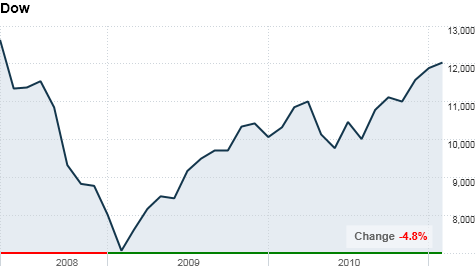 NEW YORK (CNNMoney) -- U.S. stocks started February with a bang Tuesday, with the Dow and S&P 500 closing above key psychological levels for the first time in more than two years, and the Nasdaq gaining almost 2%.
Investors overcame ongoing jitters over protests in Egypt and new developments in Jordan, where the king dismissed his government and appointed a new prime minister.
The Dow Jones industrial average (INDU) rallied 148 points, or 1.3%, to finish at 12,040, the highest June 19, 2008.
All but three of the 30 blue-chip components moved higher. A 5.5% jump in shares of Pfizer (PFE, Fortune 500) led the advance, with the drugmaker posting better-than-expected fourth-quarter earnings. Alcoa (AA, Fortune 500) and Bank of America (BAC, Fortune 500) were also big Dow gainers.
The S&P 500 (SPX) added 21 points, or 1.7%, to close at 1,307, also the highest since June 2008. Shares of printer manufacturer Lexmark (LXK) soared more than 13% following strong earnings and an upbeat forecast.
The Nasdaq (COMP) gained 51 points, or 1.9%. Baidu (BIDU) was the tech-heavy index's big winner, with shares spiking more than 9%. China's main Internet search provider said its fourth-quarter profit nearly tripled from a year earlier, to $176 million.
Chinese online media firm Sohu.com (SOHU) also jumped more than 6%, a day after reporting strong earnings.
Much stronger-than-expected manufacturing data added fuel to the buying spree.
"Economic data remains fairly positive and quarterly earnings are coming out strong across the board," said Rob Lutts, chief investment officer at Cabot Money Management. "Those are having a big impact and driving expectations higher."
U.S. stocks posted solid gains Monday and ended January about 2% higher, as positive earnings from Exxon Mobil (XOM, Fortune 500) and rising commodity prices overshadowed the political unrest in Egypt. The Dow finished the month 2.7% higher, representing the first January gain since 2007, and the best first-month performance since 1997.
Economy: Construction spending dropped 2.5% in December, following a rise of 0.4% in November. Economists were expecting spending to ease 0.4% during the month.
General Motors (GM) kicked off the year with stronger-than-expected sales in January, driven by increased demand from individual customers. GM stock was slightly higher.
In Washington, the Senate Budget Committee kicked off three days of hearings on the economic outlook, tax reform and challenges to the economic recovery.
At the end of the week, the government releases its January jobs report, and investors will be eyeing the report closely for signs of improvement in the labor market.
Companies: Before the opening bell, United Parcel Service (UPS, Fortune 500) logged a 44% jump in profit that beat forecasts and said it expects earnings per share to climb to a record high for 2011. Shares of the package delivery company finished up 4.2%.
Shares of Borders (BGP) plunged more than 35% in the final minutes of trading following a Bloomberg report that the bookseller may file for bankruptcy protection as early as next week. The report, which cited people familiar with the matter, also said several private equity firms are considering whether to provide a junior loan to the company, which will likely close at least 150 stores.
World markets: Protests in Egypt resumed Tuesday and tensions were still far from resolved, with Standard & Poor's announcing it cut Egypt's foreign currency rating. The news came a day after Moody's downgraded its rating on Egypt's debt.
But some investors think the fears that sparked a sell-off in the stock market late last week may have been overblown and the situation is beginning to stabilize.
Egyptian President Hosni Mubarak has decided not to seek re-election, a senior U.S. official involved in the Obama administration's deliberations on Egypt said Tuesday afternoon.
"Investors are realizing that while there are still issues in Egypt and across the Middle East, they will likely be resolved," Lutts said. "For now, we're gravitating back to the reality that the U.S. economy is recovering."
European stocks gained Tuesday. Britain's FTSE 100 and France's CAC 40 rallied 1.6%, and the DAX in Germany rose 1.4%.
Asian markets ended higher. The Shanghai Composite edged up 0.3%, the Hang Seng in Hong Kong gained 0.2% and Japan's Nikkei rose 0.4%.
Currencies and commodities: The dollar slumped against the euro, the Japanese yen and the British pound.
Oil for March delivery slipped $1.42 cents to settle at $90.77 a barrel. On Monday, crude prices jumped to their highest level since October 2008, gaining 2.9% to settle at $92.19 a barrel, amid worries about potential disruptions to shipments through the Egypt-controlled Suez Canal.
Gold futures for April delivery gained $5.80 to settle at $1,340,30 an ounce.
Bonds: The price on the benchmark 10-year U.S. Treasury fell, pushing the yield up to 3.44% from 3.35% late Friday.