Stocks poised to open with slight gains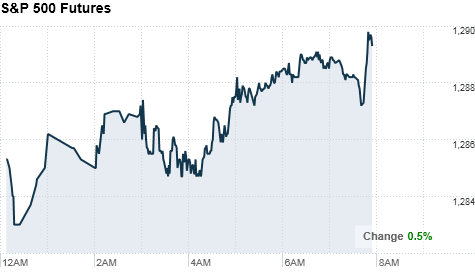 NEW YORK (CNNMoney) -- U.S. stocks were poised to open February with modest gains Tuesday as investors await corporate earnings and a report on manufacturing, while continuing to eye the ongoing protests in Egypt.
Dow Jones industrial average (INDU), S&P 500 (SPX) and Nasdaq (COMP) futures were higher ahead of the opening bell. Futures measure current index values against perceived future performance.
U.S. stocks posted solid gains Monday, as positive earnings from Exxon Mobil and rising commodity prices overshadowed the political unrest in Egypt.
Protests in Egypt resumed Tuesday and tensions were still far from resolved, with Standard & Poor's announcing it cut Egypt's foreign currency rating. The news comes a day after Moody's downgraded its rating on Egypt's debt.
But some investors think the fears that sparked a sell-off in the stock market late last week may have been overblown.
"I can't imagine the worry over Egypt is gone, but maybe we've worried enough that we've become a little numb to it and have already embedded the worries in stock prices," said Bruce McCain, chief market strategist at Key Private Bank.
He said when the protests began to escalate on Friday, many investors priced in the worst-case scenario, so stocks will only move lower again if the situation becomes much worse than people had been anticipating.
But there are other countries to worry about as well, McCain warned.
"So many of these emerging countries are suffering from food inflation that Egypt isn't the last one," he said. "If Egypt goes down, what's next? It could turn into a domino effect of governmental collapse and that would, at the minimum, be nerve-wracking for markets."
Economy: The Institute for Supply Management's index of manufacturing is due after the start of trading. Economists forecast the index to fall to 58.4 in January, from a revised reading of 58.5 in December. Any number above 50 indicates growth in the sector.
Also due after the bell, construction spending is expected to have dropped 0.4% in December, following a rise of 0.4% in November.
Auto and truck sales for January are due throughout the day.
In Washington, D.C., the Senate Budget Committee kicks off three days of hearings on the economic outlook, tax reform and challenges to the economic recovery.
At the end of the week, the government releases its January jobs report, and investors will be eyeing the report closely for signs of improvement in the labor market.
"There's continuing nervousness ahead of this number," said McCain. "We can look past one bad report but another bad report in a row would certainly make people worried."
Companies: Tuesday morning BP (BP) reported quarterly earnings that topped Wall Street expectations, but logged an annual loss due to the Gulf of Mexico oil spill. The company announced it will start paying dividends to shareholders again. Dividends will be 7 cents a share for the fourth quarter of 2010. Shares of the oil giant slipped more than 2% in pre-market trading.
Before the opening bell, United Parcel Service (UPS, Fortune 500) logged a 44% jump in profit that beat forecasts and said it expects earnings per share to climb to a record high for 2011. Shares of the shipping company rose 2% on the news.
World markets: European stocks gained in morning trading. Britain's FTSE 100 rallied 0.9%, the DAX in Germany rose 1% and France's CAC 40 climbed 0.9%.
Asian markets ended the session higher. The Shanghai Composite edged up 0.3%, the Hang Seng in Hong Kong gained 0.2% and Japan's Nikkei rose 0.4%.
Currencies and commodities: The dollar slumped against the euro, the Japanese yen and the British pound.
Oil for March delivery slipped 61 cents to $91.58 a barrel. On Monday, crude prices jumped 2.9% to settle at $92.19 a barrel, amid worries about potential disruptions to shipments through the Egypt-controlled Suez Canal.
Gold futures for April delivery rose $1.20 to $1,335.70 an ounce.
Bonds: The price on the benchmark 10-year U.S. Treasury fell, pushing the yield up to 3.40% from 3.35% late Friday.