Allstate zodiac joke bombs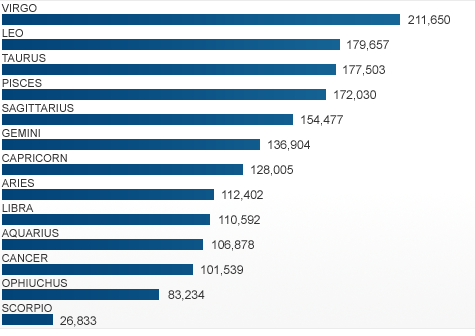 NEW YORK (CNNMoney) -- Allstate Corp. retracted a press release on Wednesday that was meant to be a joke, displaying the accident rates of drivers according to their zodiac signs.
"We recently issued a press release on zodiac signs and accident rates, which led to some confusion around whether astrological signs are part of the underwriting process," said the insurer, in its retraction. "Astrological signs have absolutely no role in how we base coverage and set rates."
Allstate (ALL, Fortune 500) also said, "We deeply apologize for any confusion this may have caused."
The insurance company's original press release claimed that Scorpios, who have a "perfectionist nature," were the safest drivers in 2010, because they were involved in only 26,833 accidents. Virgos on the other hand, which Allstate characterized as "worried and shy," were involved with 211,650 accidents, making them the worst offenders, according to the company.
"Over the past year, Virgos were nearly 700% more likely to be in a car accident when compared to the determined and aware Scorpio," said the original press release, which described Scorpios as having "overly cautious and timid driving habits."
The press release was apparently inspired by recent revisions to the zodiac calendar, which changed the range of birth dates for the different signs. Allstate declared Opiuchus, the new sign added for people born Nov. 29 to Dec. 17, to be the second-safest group of drivers.
The data that Allstate used was real, based on the birthdays of customers actually involved in accidents. But the company's conclusion was tongue in cheek.
Unfortunately, enough people took the press release seriously to create a public relations mess for Allstate. Company spokeswoman Laura Strykowski said the press release was yanked from the company site and she refused to provide a copy of the offending release to CNNMoney. But the document was available via the Nexis database.
"Rating by astrology would not be actuarially sound," said Allstate, in its retraction. "We realized that our hard working customers view their insurance expense very seriously. So do we."