Time Warner tops Wall Street forecasts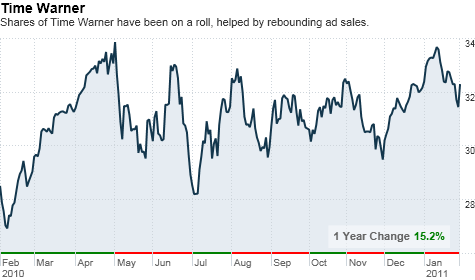 NEW YORK (CNNMoney) -- Time Warner Inc. posted fourth-quarter earnings Wednesday that beat Wall Street expectations, aided by a recovering TV advertising market.
The New York-based media company, the parent of CNNMoney, said net income from continuing operations was $769 million, or 68 cents per share, up 26% from a year earlier.
Adjusted operating income, a commonly used profit metric for media companies, rose 14% to $1.4 billion, or 67 cents per share. Analysts polled by Thomson Reuters were looking for earnings of 62 cents per share on that basis.
Time Warner's sales rose 8% to $7.8 billion, topping analysts' forecasts of $7.47 billion.
For 2011, the media company expects the percentage of growth for its full-year earnings per share to be in the low teens, off of a base of $2.41 per share in 2010.
"In 2011, we're even more confident about how we're positioned, and we'll be even more aggressive," Time Warner chairman and chief executive officer Jeff Bewkes said in a prepared statement. "We'll increase our investments in programming, production and marketing even more than we did last year. "
Meanwhile, the company raised its cash dividend by 11% to 94 cents a share and announced a $5 billion stock repurchase program.
Revenue at the company's network division, which includes CNN and HBO, rose 14% in the quarter, led by a 21% jump in advertising sales and a 25% surge in content sales. Subscription revenues climbed 9%.
For the full year, the company said ad sales were lifted by strong domestic demand, while content revenue increased thanks to licensing and home video sales of "The Pacific" and cable television sales of its hit show "Entourage."
Overall revenue increased 11% at its networks in 2010, boosted by the success of shows such as TBS's "Conan", which Time Warner said has consistently ranked as one of the top late-night talk shows among adults.
Sales at Time Warner's film business, Warner Bros., increased 10% in the fourth quarter, which the company attributed to higher television license fees. But the gain wasn't enough to offset a decline in home video revenues, which caused income to slip 5% at the division.
For the full year, Time Warner said revenues at its film division rose 5%, helped by the success of hit releases including "Harry Potter and the Deathly Hallows: Part 1", "Inception" and "Clash of the Titans".
The company's publishing branch, Time Inc., continued to lag in the quarter, with revenue dropping 4%. That included a 1% decline in advertising sales, a 7% decrease in subscription sales and a 13% slide in other revenue.
Shares of Time Warner (TWX, Fortune 500) have climbed more than 15% over the past year, and the company's stock jumped about 4% in premarket trading Wednesday following the results.
Time Warner was the first of the major media companies to report fourth-quarter earnings. News Corp. (NWSA) is on deck after the market close Wednesday, while CBS (CBS, Fortune 500) and Disney (DIS, Fortune 500) are scheduled to release results later in the month.