There's a black market for o.b. tampons (for reals)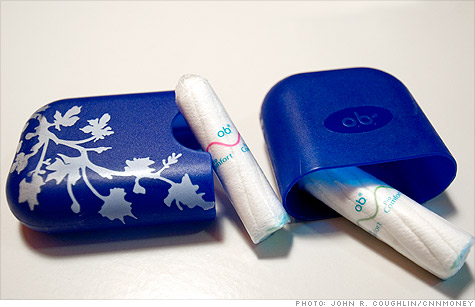 NEW YORK (CNNMoney) -- Women nationwide are searching high and low for a special kind of tampon that has been missing from shelves since the fall.
In January, Johnson & Johnson (JNJ, Fortune 500) said its mysteriously absent o.b. tampons had started being shipped to retailers, but that there could be a delay of weeks or days before they reached the stores.
The company also gave no explanation as to why the tampons -- which have a cult-like following thanks to their small profile and lack of an applicator -- were off the shelves in the first place.
And it's now February, and the tampons still haven't shown up.
"I've spent about 3 hours driving between 6 different stores today and yesterday, in heavy traffic, looking for OB tampons," one discouraged o.b. fan wrote in an online forum. "I couldn't find any at all, in any size!"
They are out of stock online at Walmart (WMT, Fortune 500) and CVS (CVS, Fortune 500) and don't show up in search results at Walgreens (WAG, Fortune 500) -- which now owns Duane Reade -- or Target (TGT, Fortune 500).
A Johnson & Johnson spokeswoman said that while this may be the case online, brick-and-mortar retailers should have received the shipments by now.
"We've been shipping as of our statement in early January," she said, adding that "different retailers reset their shelves at different times, or it may be that they are selling through them."
But the tampons still haven't made it to southeastern grocery store chain Publix (PUSH). A spokeswoman said its stores "have been out of stock at the store level for the product due to the manufacturer," giving no indication of when the tampons would return to shelves.
And an employee at a Duane Reade in New York City said the store hadn't had the tampons "for a while" and that she didn't know when new shipments would be arriving.
The one place o.b. tampons were spotted was Rite Aid's website. While it doesn't have the Super Plus absorbency in stock, the Super absorbency and Regular absorbency o.b. tampons are somehow available. But Rite Aid (RAD, Fortune 500) did not return calls for comment, so don't get your hopes up.
Because the product is so unique, the shortage has led to a black market. While a box of o.b. tampons costs $7.49 at Rite Aid, eBay users have posted starting bids of as much as $130 for four boxes, taking advantage of the limited supply.
And apparently that isn't too much to ask of some loyal fans, with one customer saying in an online forum that she recently bought a box on Amazon.com for $39.