Want a better TV for the Super Bowl? Buy now!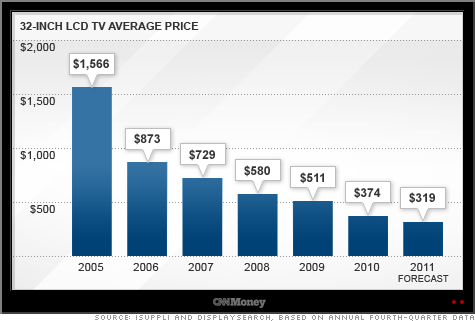 NEW YORK (CNNMoney) -- If you're looking for a flat-screen TV deal, this week is a good time to buy -- but extreme bargain hunters may find even better deals next month.
The week before the Super Bowl typically brings sales of up to 10% off the listed price for flat-screen TVs, as manufacturers try to lure in viewers eager to watch the big game on a new screen, according to research firm DisplaySearch.
But tepid holiday sales this year have left TV set makers with excess inventory they're eager to shed. That means discounts this week could be as big as 20% to 30%, said Paul Gagnon, director of TV research at DisplaySearch.
That still might not be as low as televisions go, however. Those willing to hold out for an even cheaper price on flat-screens may want to wait a tad longer.
"Just prior to the Super Bowl is one of the last opportunities for manufacturers to clear out their 2010 models," Gagnon said. "If they can't sell them now, they're going to have to discount them even more."
With 2011 TV models set to come to market later this month, some leftover 2010s will have their prices axed to the max by the beginning of March.
But timing the market isn't for the weak-willed. The pickings will be slim after the shopping surge culls the selection, and TV manufacturers have shown in the past that they'd prefer to throw in deal sweeteners -- like bundling TVs with free shipping or tossing in a Blu-Ray player -- instead of cutting prices even further.
"Maybe you'll get a good deal, but there won't be a wide selection of products around," said Steve Baker, analyst at NPD Group.
Prices have been pressured downwards as LCD sales have been disappointing lately -- falling for seven months straight, according to Ticonderoga Securities. DisplaySearch said sales were down incrementally from 2009 during the holiday season.
Industry watchers say the lack of demand for LCD TVs is partially due to saturation: Those who want them the most have already bought them. A Yankee Group study found that about 56% of U.S. households already have an HDTV.
Sales soared in previous years as people swapped out their old standard-definition tubes for flat screen HDTVs. Even during the economic downturn in 2008 and 2009, flat screens remained a hot buy, with double digit sales growth during the past two holiday seasons, NPD Group found. But now that most Americans own an LCD TV, there's less incentive to purchase them.
Also, new TV offerings haven't given consumers much reason to buy one. Internet-connected TVs and 3D TVs are expensive, difficult to use and require awkward accessories like keyboard-remotes or 3D glasses. Backlit LED TVs are thinner and have a crisper picture, but they're not so much of an improvement that consumers who just bought an LCD TV are willing to upgrade just yet.
And, of course, cash-strapped consumers have been holding out for prices to drop still further.