IPad newspaper The Daily launches its first edition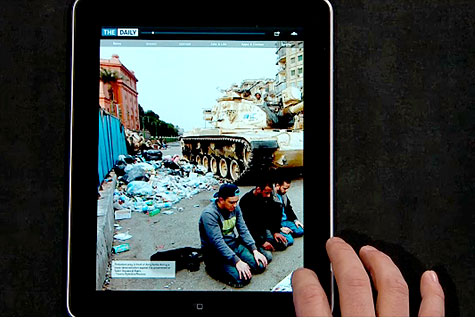 NEW YORK (CNNMoney) -- News Corp. CEO Rupert Murdoch and a gaggle of tech and media chroniclers gathered Wednesday at the Guggenheim Museum in New York for a first look at the debut edition of The Daily, News Corp.'s experimental iPad "newspaper."
Joined by Apple executive Eddy Cue, the company's Internet division chief, Murdoch unveiled the publication to which his company has committed around 100 staffers and an investment of $30 million.
"The iPad demands that we completely re-imagine our craft," Murdoch said. "I'm convinced that in the tablet era there's room for a fresh and robust new voice."
Apple has sold 14.8 million iPads since its tablet hit the market in April. Murdoch said he expects the tablet audience to grow to more than 50 million within the next year.

It represents an opportunity to "make the business of editing and news gathering viable again," he said.
"No paper. No multi-million dollar presses. No trucks," Murdoch said. "We're passing on these savings to the reader, which is why we can offer The Daily for just 14 cents a day."
News Corp. (NWS, Fortune 500) can operate The Daily for $500,000 a week, Murdoch said, which translates to an annual operating cost of $26 million.

The news industry patriarch said he will consider the publication a success "when we're seling millions. Our ambitions are very big, our costs are very low."
Inside the app: The Daily focuses on multimedia interactivity.
"News doesn't exist in a vacuum anymore," said Jon Miller, News Corp.'s digital chief. "It's shared, it's social, and the ability to follow links is crucial."
Video is integrated throughout, and readers can drill down into stories for more data. Weather pages pull up current forecasts, celebrity stories integrate the subject's Twitter feed, and the sports section includes customizable schedules and stats.
Buttons on news stories let readers push them out to Facebook, e-mail and Twitter, and post comments.
Stories pushed out through such channels will be available for free to those who follow those shared links, but the publication itself will not be posted online for free, editor Jesse Angelo said.
The first edition went live in Apple's App Store at 12 p.m. ET. The Daily is the first "app" Apple will sell under a subscription model, with new editions pushed out automatically to subscribers' iPads. Subscriptions are priced at 99 cents per week. The first two weeks will be free.
Asked when other news publications will be able to sell subscriptions, Apple (AAPL, Fortune 500) executive Cue answered: "You'll hear an announcement from us very soon."
The first edition's front page story, called "Falling Pharaoh," is about the turmoil in Egypt and President Hosni Mubarak's slipping grip on power.