AOL unloads 40% of its cash on Huffington Post buy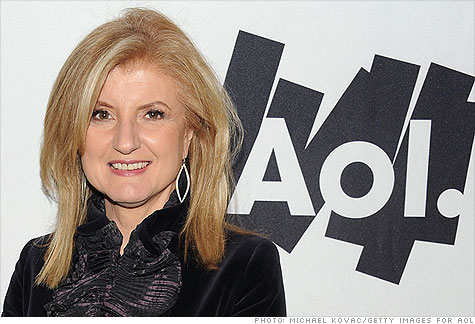 NEW YORK (CNNMoney) -- AOL's purchase of The Huffington Post is the splashiest in a long line of acquisitions -- but the buying spree likely ends here. AOL had to part with almost half of its cash to secure the deal.
As part of the $315 million acquisition, AOL unloaded $300 million in cash -- plus another $30 million in cash to cover expenses. That's more than 40% of the $802 million in cash that AOL had on hand at the end of last year.
"The acquisition price is a bit of a stretch," said Clayton Moran, analyst at The Benchmark Company. "[AOL is] draining cash from the asset side of the business very quickly."
Moran noted that AOL has spent $530 million on acquisitions in the past year, as it focuses on becoming a content company rather than an outdated Internet portal. In a single October week, AOL bought TechCrunch, online video distributor 5Min Media and social-media company Thing Labs.
But The Huffington Post is by far its biggest buy. Huffington told CNN that her blog has 26 million unique visitors a month, and it's gotten a lot of buzz since it launched in 2005.
"Strategically, it was a good deal that will bring them more eyeballs," Moran said. "But they're going to need to take some time to digest all these acquisitions."
As a result, Moran predicts that AOL (AOL) will slow its buying pace "meaningfully" over the next six to 12 months.
AOL founder Steve Case seemed skeptical about the deal. He tweeted a New York Times article in which current CEO Tim Armstrong said the HuffPo deal is "a situation where one plus one will equal 11."
Case quipped via tweet: "Really? That wasn't my experience." He later tweeted that he was "just teasing," and congratulated the two companies.
Is this match point for AOL? While Armstrong -- a former Googler who took the AOL helm in March 2009 -- has been buying outside properties en masse, he's also deciding which content still fits into his vision for the company.
He's been investing in sites like Patch, AOL's hyperlocal blog network, while unloading services including instant messenger ICQ. All the while, Armstrong has told media outlets including CNNMoney that the company is "not a Hail Mary" -- that it has a cemented plan.
But investors seem nervous that the HuffPo buy is a make-or-break move, noted David Joyce, analyst at Miller Tabak & Co. AOL stock was off 1% in afternoon trade Monday, after falling 4% earlier in the session.
"This is not a take-over-Yahoo [acquisition], but judging by the stock's reaction, it is possibly some people's definition of a Hail Mary pass -- [which] Armstrong said they wouldn't do," he said.
Still, Joyce sees HuffPo growing 200% over 2011, which could "accelerate the path to profitability."
Buying HuffPo, or Huffington? While some analysts are skeptical about the size of the deal, most agree that HuffPo's content and business model are in line with that of AOL. The flashy name of HuffPo co-founder Arianna Huffington could also jazz up AOL's image.
"AOL bought an established brand name, and it also bought Arianna Huffington," said Laura Martin, analyst at Needham & Co. "She's an extremely valuable name."
Under the deal, Huffington received a big new title: president and editor-in-chief of The Huffington Post Media Group, which will include all Huffington Post and AOL content.
"Arianna doesn't need the money, so clearly she is interested in AOL and in working with [CEO] Tim Armstrong," Martin said. "He's made it very clear what he wants to build, and she can be a big part of that."