Bernanke faces off against Paul Ryan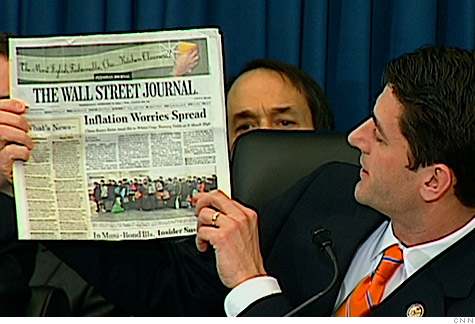 NEW YORK (CNNMoney) -- Facing off against some of his toughest critics on Capitol Hill Wednesday, Federal Reserve Chairman Ben Bernanke told lawmakers they need a "credible program" to reduce the nation's growing deficit.
"Even after economic and financial conditions return to normal, the federal budget will remain on an unsustainable path... unless the Congress enacts significant changes in fiscal programs," Bernanke told the House Budget Committee.
In his first appearance before the new Republican-controlled House Wednesday morning, Bernanke addressed questions about the state of the economy and fiscal and monetary policy.
Paul Ryan, a Republican from Wisconsin who heads the committee, has been a vocal opponent of the Fed's recent stimulus policy, which pumps $600 billion into the economy through purchases of long-term Treasuries.
He said he fears the policy, known as quantitative easing, will cause inflation to accelerate rapidly, forming asset bubbles and crushing the dollar.
"There is nothing more insidious that a country can do to its citizens than debase its currency," Ryan said.
After opening remarks, Ryan jumped right into questions about the controversial policy, accusing Bernanke of using quantitative easing to "monetize" the soaring debt by printing more money to finance government spending.
But Bernanke countered that quantitative easing would not permanently increase the money supply, since the Fed plans to reverse the policy once the economy recovers.
Bernanke repeated that point several times throughout the Q&A session, constantly reassuring representatives that the Fed fully intends to increase interest rates ahead of a rapid rise in inflation.
"If the economy begins to grow very quickly, and inflation begins to rise, then we would reverse it," he said.
Holding up Wednesday's Wall Street Journal, Ryan pointed to a front page headline saying "Inflation worries spread" and confronted Bernanke about a recent surge in commodities affecting food and energy prices.
Bernanke echoed comments he gave last week, shrugging off food and energy inflation as an issue confined mostly to emerging economies.
"Monetary policy can't do anything about, say, bad weather in Russia or increases in demand for oil in Brazil and China," Bernanke said. "What we can do is try to get stable prices and growth here in the United States."
Bernanke has been on the defensive about quantitative easing, arguing that inflation in the U.S. remains weak and is far from a threat. And with unemployment at 9%, the economic recovery still has a long way to go, he said.
"It will be several years before the unemployment rate has returned to a more normal level," he said. "Until we see a sustained period of stronger job creation, we cannot consider the recovery to be truly established."
He told lawmakers it will take years to bring the unemployment rate down to a more normal level of 5% to 6%. It takes economic growth of at least 2.5% for the job market to keep up with new workers entering the labor force, and the U.S. is currently growing at a rate of 3.2%.
Bernanke pushed lawmakers to focus on cutting the national debt, while still investing in education and infrastructure.
He also advocated for reforming the corporate tax code, to encourage businesses to create jobs.
Corporate tax rates in the U.S. are currently some of the highest in the industrialized world at 35%, but many businesses use tax breaks to reduce their rates. Bernanke suggested reducing corporate tax rates, while cutting back on the loopholes available to businesses.