Treasuries fall in wake of jobless claims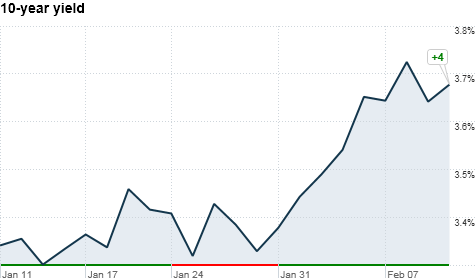 NEW YORK (CNNMoney) -- Treasury prices edged lower Thursday as investors reacted to a better-than-expected government report on initial unemployment claims and a bond auction.
The yield on the benchmark 10-year note rose to 3.71% after hovering near 3.69% earlier in the day.
Bond yields and prices move in opposite directions.
The jobs report showed that the number of Americans filing first-time claims for unemployment benefits fell to 383,000 last week -- the lowest number in two-and-a-half years.
"The jobs report lends credence to the outlook that labor market is really improving," said David Coard, head of fixed-income trading at Williams Capital Group. "There may be some weather-related noise, but over the last several weeks, the trend definitely looks downward."
Later Thursday, the Treasury auctioned off $16 billion in 30-year bonds, following a robust 10-year note auction on Wednesday that Coard described as "smashing."
Wednesday's auction produced a bid-to-cover ratio of 3.23 times, which indicates extremely strong demand. Thursday's auction yielded a bid-to-cover ratio of 2.51.
In addition to the auction, investors are also keeping a close watch on Egypt, where reports indicate that weeks of protests may culminate in the resignation of President Hosni Mubarak.
Coard said that tumultuous geo-political events have provided support for Treasury prices in recent weeks, as investors have sought the safe haven of U.S. Treasury bonds.
"Mubarak's resignation, should it occur, would definitely cause the flight-to-quality bid to fade," Coard said.