Stocks end mixed as Egypt, tech weigh on market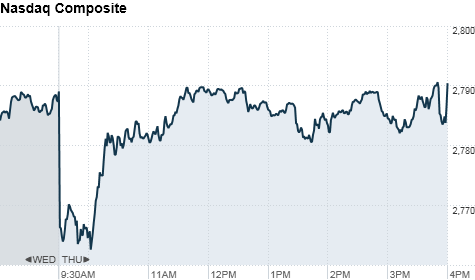 NEW YORK (CNNMoney) -- U.S. markets ended Thursday on a mixed note as traders tried to grasp the developments in Egypt.
The Dow Jones industrial average (INDU) lost 10.6 points, or 0.1% to end at 12,229; the S&P 500 (SPX) rose 1 point, or 0.1%, to 1,322; and the tech-heavy Nasdaq (COMP) closed up 1.4 points, or 0.1% to 2,790. The Dow had been down more than 75 points earlier in the day.
At the beginning of trading, the Dow and Nasdaq posted steep losses led by Cisco Systems (CSCO, Fortune 500) -- whose shares fell 14%. The network equipment maker posted a quarterly profit late Wednesday that was lower than year-earlier results, although it beat Wall Street's forecasts.
Cisco's earnings and outlook generally have a heavy influence on both technology stocks and the broader market, because it builds several key components for the Internet. However, investors noted Cisco has been in turnaround mode for several quarters now.
"The market is trying to work through [whether] Cisco's problems are Cisco's problems, or if they're related to tech overall," said Daniel Morgan, portfolio manager for Synovus Trust.
Despite poor quarterly earnings from other tech companies including Akamai (AKAM) and Activision Blizzard (ATVI), the markets erased the majority of losses after major news outlets reported that Egyptian President Hosni Mubarak could step down today.
After hours of waiting, President Mubarak began speaking at around 3:45 p.m. ET, giving U.S. markets only about 15 minutes to react to the news. When U.S. markets closed, it wasn't clear if Mubarak was stepping down, but it soon became evident that he was not relinquishing power.
Investors said the global reaction to Egypt overnight will hold the key for trading tomorrow.
"We know are possibly losing a friend, but are we gaining an enemy? It's hard to tell at the moment," said Peter Cardillo, chief market economist with Avalon Partners."The auxiliary markets such as the dollar and gold will be the ones to watch overnight."
Companies: Shares of Credit Suisse (CS) fell 7.3%, after the financial services company reported quarterly results that disappointed investors. The bank's asset management division also adjusted its target for return on equity this year, citing the "new regulatory environment."
PepsiCo (PEP, Fortune 500) said fourth-quarter earnings fell 1.7% to 85 cents per share, and issued a disappointing outlook. Shares lost nearly 2% in afternoon trading.
Whole Foods (WFMI, Fortune 500) stock was up more than 11% after the grocery chain reported first-quarter results that beat expectations, and raised its sales and earnings outlook for the year.
After the closing bell, Kraft Foods (KFT, Fortune 500) reported earnings per share of 46 cents on $13.8 billion in revenue, in line with expectations.
Economy: A weekly government report showed that the number of Americans filing first-time claims for unemployment benefits fell to 383,000 last week -- the lowest number in two-and-a-half years.
The report was better than expected. Economists surveyed by Briefing.com had forecast 410,000 initial claims.
Investors will also keep an eye out for a proposal due Friday from the Obama administration recommending a phase-out plan for Fannie Mae and Freddie Mac, two government-sponsored mortgage backers.
World markets: European markets closed mixed. Britain's FTSE 100 slipped 0.5%, while the DAX in Germany added 0.3% and France's CAC 40 edged up 0.1%.
Asian markets ended mixed. The Shanghai Composite rose 1.6%, while the Hang Seng in Hong Kong plunged nearly 2% and Japan's Nikkei eased 0.1%.
Currencies and commodities: The dollar rose against the euro, the Japanese yen and the British pound.
Oil for March delivery settled up 2 cents to $86.73 a barrel. However in afterhours electronic trading, oil futures climbed 1.1% to $87.67 a barrel..
Gold futures for April delivery settled down $3 to $1,362.50 an ounce.
Bonds: The price on the benchmark 10-year U.S. Treasuries fell, pushing the yield up to 3.68%.