Foreclosures are falling - but it's a fake out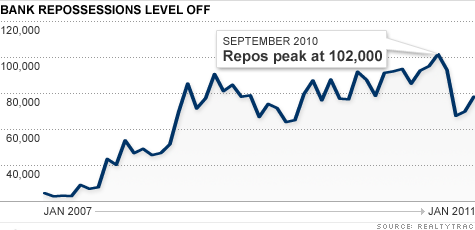 NEW YORK (CNNMoney) -- Foreclosure filings plunged in January, but don't shake those pom-poms yet. It's strictly a fake out.
The number of homes receiving foreclosure filings -- default notices, auctions and repossessions -- fell 17% in January compared to a year earlier, RealtyTrac reported on Thursday. But that's still 261,333 properties and a 1% increase compared to December.
"We've now seen three straight months with fewer than 300,000 properties receiving foreclosure filings, following 20 straight months where the total exceeded 300,000," said James Saccacio, CEO of RealtyTrac.
"Unfortunately," he added, "This is less a sign of a robust housing recovery and more a sign that lenders have become bogged down in reviewing procedures, resubmitting paperwork and formulating legal arguments related to accusations of improper foreclosure processing."
Even with the slowdown, more than 78,000 borrowers lost their homes in January, easing off the record 102,000 that was reached last September.
But, experts argue, this doesn't reflect the true number of potential foreclosures since most are just being postponed. Inevitably, they'll show up in future RealtyTrac statistics.
"We expect a spike in the first quarter," said Rick Sharga, a RealtyTrac spokesman. "If we don't get that, it could mean that the foreclosures are being pushed back even more and that the time needed for recovery will be prolonged."
Making matters worse, the number of people who are underwater -- meaning they owe more on their mortgage than their homes are worth -- rose to 27% in December, according to Zillow.com.
The further below water those homeowners fall, the more likely they are to lose their homes to foreclosure because they have no home equity to draw from should they run into temporary financial problems.
Hot spots
There was something of a shakeup among the individual states at the top of RealtyTrac's hardest-hit states. Florida, which had been outpacing all others for years, fell to ninth place in January, with a rate of one in ever 409 homes receiving a filing. Year-over-year, filings are off by 54% in the Sunshine State.
Sharga traced that big Florida improvement to robo-signing -- not an end to the foreclosure plague. As one of the epicenters for the issue, the banks have to be extra careful to make sure their procedures and paper work pass muster with judges. That means there are many delays at the moment.
Not only that, but the Florida courts "are being more careful, more rigorous in observing all the proper legal procedures," said Sharga.
Now, the seven states with the highest rate of foreclosure filings in January were all in non-judicial states, where foreclosure auctions can be scheduled and homes repossessed without any court hearing.
Nevada led the states for the 49th consecutive month; Arizona was second and California third. Idaho and Utah filled out the top five worst-hit states.
Among metro areas of more than 200,000 residents, Las Vegas had, as usual, the highest foreclosure rate.