Stocks in holding pattern ahead of budget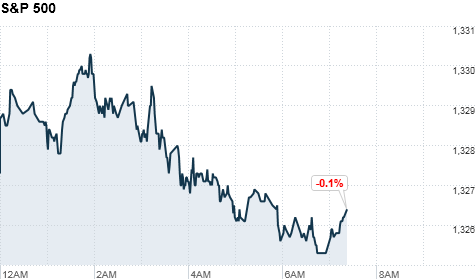 NEW YORK (CNNMoney) -- U.S. stocks were poised for a flat open Monday as investors took a cautious stance ahead of President Obama's 2012 budget outlook.
Dow Jones industrial average (INDU), S&P 500 (SPX) and Nasdaq (COMP) futures were little changed ahead of the opening bell. Futures measure current index values against perceived future performance.
Stocks finished a strong week at multi-year highs on Friday, as investors cheered the resignation of Egyptian President Hosni Mubarak.
For the week, the three major indexes closed more than 1% higher. The Dow and the S&P also ended Friday's session at their highest levels since mid-June 2008.
With no reports on the domestic economy, stocks will probably have a "sideways performance," said Peter Cardillo, chief market economist with Avalon Partners.
However, "the news out of China was encouraging," he said. "Their trade deficit narrowed and that's helping the dollar."
China's trade surplus shrunk to $6.5 billion in January, with exports rising 37.7%, according to news reports.
Economy: There are no market-moving economic reports on tap for Monday, but President Obama will release his budget proposal for fiscal year 2012 in the morning.
The $3.7 trillion budget request proposes painful cuts in many government programs, but fails to address the largest drivers of the country's long-term debt: Medicare, Medicaid and Social Security.
The budget takes a big bite out of domestic spending and would slash deficits by $1.1 trillion over the next decade, according to White House estimates.
Congress will hold budget hearings throughout the week, and investors are likely to focus their attention on deficit levels.
Companies: GE (GE, Fortune 500) said late Sunday that it's oil and gas business will acquire the well support division of John Wood Group for about $2.8 billion. The deal is expected to close later this year. Shares of GE were flat.
Internet radio site Pandora filed late Friday to raise up to $100 million in an initial public offering.
After the market close on Monday, Marriott (MAR, Fortune 500) will report its quarterly results. Analysts surveyed by Thomson Reuters expect the company to post earnings per share of 36 cents, on $3.58 billion in revenue.
World markets: European stocks were mixed in morning trading. Britain's FTSE 100 and France's CAC 40 were flat, while the DAX in Germany rose 0.4%.
As expected, China overtook Japan as the world's second-largest economy. According to government statistics, Japan's economy was valued at $5.47 trillion dollars in 2010, while China was at $5.88 trillion.
Asian markets ended the session higher. The Shanghai Composite rose 2.4%, the Hang Seng in Hong Kong added 1.3% and Japan's Nikkei gained 1.1%.
Currencies and commodities: The dollar rose against the euro and the British pound, but eased versus the Japanese yen.
Oil for March delivery gained 10 cents to $85.68 a barrel.
Gold futures for April delivery fell $2.10 to $1,360.40 an ounce.
Bonds: The price on the benchmark 10-year U.S. Treasury edged lower, pushing the yield up to 3.65% from 3.64% late Friday.