NYC launches iPhone condom-finder app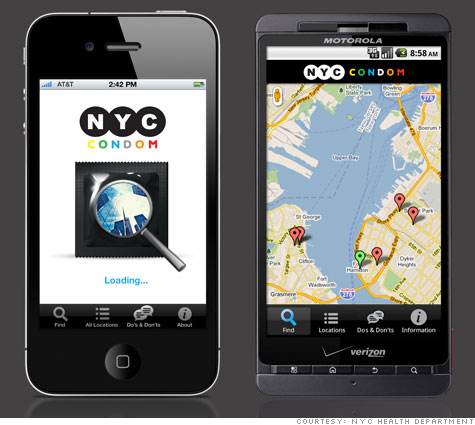 NEW YORK (CNNMoney) -- Need protection for your hot date for Valentine's Day? There's an app for that.
Recognizing that sometimes love can't wait, the New York City Health Department is making it quick and easy to find free condoms around the city. On Monday, the department released a well-timed app for finding a nearby distribution point.
"You all call it Valentine's Day, we all call it National Condom Awareness Day," said Monica Sweeney, the agency's assistant commissioner for its Bureau of HIV/AIDS Prevention and Control. "When the mind turns towards the heart, as in Valentine's Day, it often ends up turning towards sex. Then you need our product."
The app uses GPS to pinpoint the user's location, and with a few clicks offers up a list of the nearest condom distribution venues and directions for getting there. The NYC Condom Finder can be downloaded from the Android Market or Apple's iPhone App Store.
The new initiative aims to keep up with the times, Sweeney said. Since 1971, New York's health department has distributed free condoms, an effort that now includes 3,000 outposts throughout the city. They're available at restaurants, clubs, and other social gathering spots, not just health clinics. The city's website has a comprehensive list of distribution points, but a mobile app is far more convenient.
"We don't want not having access to be the barrier, we want condoms to be barrier," Sweeney said. "What we're doing is working to make New York City the safest city in the world to have sex."