Pimco's Gross slashes U.S. debt holdings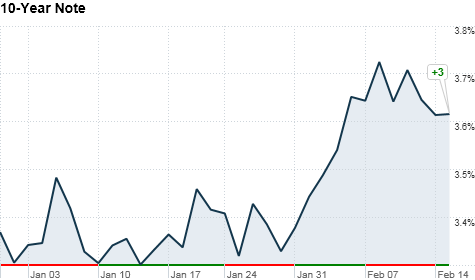 NEW YORK (CNNMoney) -- PIMCO's Total Return Fund (PTTRX), the world's largest fixed-income mutual fund run by well-known fund manager Bill Gross, slashed its ownership of U.S. government bonds last month to its lowest level since 2009.
The move by Gross reflects the comments made by the fund manager a couple weeks ago when he expressed public displeasure with the low interest rate monetary policies of the Federal Reserve, saying it was "robbing" savers and long-term asset holders.
U.S. government-related securities now make up 12% of the Total Return Fund as of last month, down from 22% in December, according to PIMCO's website.
PIMCO defines U.S. government-related securities on their website as not only U.S. Treasuries but also government agency debt, interest rate swaps, futures and options and FDIC-guaranteed corporate securities.
Two weeks ago Gross wrote in his regular investment commentary that U.K. and U.S. Treasury bonds may need to be "exorcised" from bond portfolios, saying that interest rates were artificially low and there were more attractive investments elsewhere like emerging markets or currencies.
"It is still possible to produce 4% to 5% returns from a conservatively positioned bond portfolio -- you just have to do it with a different mix of global assets," Gross wrote in his Feb. 2 newsletter.
Gross increased his exposure to non-U.S. bonds issued by developed world economies, saying it now accounted for 5% of the Total Return Fund. He also increased his net-cash and cash-equivalents - defined as securities that mature in less than a year - to 5% as well.
At the same time, Gross reduced his holdings of mortgage-backed securities to 42% of the portfolio from 45% the previous month.
The fund is one of Wall Street's more influential mutual funds, consisting of nearly $240 billion in assets under management.
PIMCO's Total Return Fund has lost 0.74% year-to-date. The fund has a 15-year average return of 7.25%, making it best performing bond fund in its category, according to fund tracking firm Morningstar.
The price on the benchmark U.S. 10-year note edged lower Tuesday, pushing its yield up to 3.62% from 3.61% late Monday.