Best business decision of decade: Kindle app?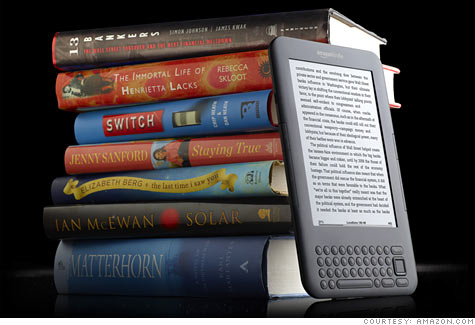 BARCELONA, Spain (CNNMoney) -- AT&T CEO Randall Stephenson called Amazon's Kindle e-reader app the "gutsiest and savviest business decision of the past decade" during a keynote address on Tuesday.
At the Mobile World Congress in Barcelona, the wireless giant's CEO said Amazon's decision to put its application on every conceivable kind of device -- even though it sells its own e-reader -- made the company "the poster child" of the cloud computing movement.
"When Apple's iPad came out, and it became clear that it would be a hit, what did Amazon do? It made an app for it," Stephenson said.
When Amazon (AMZN, Fortune 500) decided to launch its iPad app, essentially giving users a reason to buy a competitor's tablet over its own, analysts called it a brave and bold move. But Stephenson said it is now clear that Amazon's decision was incredibly intelligent.
That's because Amazon had the foresight to understand the implications of the cloud computing trend for the consumer: Content is becoming far more important than the device it is consumed on. Users just want to read their books, watch their videos and get their e-mails, regardless of whether it's on a Mac or a PC, an iPad or a Kindle, or a Windows Phone or a BlackBerry.
Half of us consume the same exact content on three or more devices, according to a new study commissioned by AT&T (T, Fortune 500). That means people are watching a Netflix movie on their PCs, picking up where they left off on their Nintendo Wiis and finishing up at the gym on their iPhones.
For Amazon, it means that people are buying Kindle e-books from the company regardless of what device (or devices) they use. So it's no surprise that Kindle was among the first applications mentioned during the launches of new mobile devices, including Microsoft's (MSFT, Fortune 500) Windows Phone 7 and Hewlett-Packard's (HPQ, Fortune 500) TouchPad tablet.
It's a strategy that is clearly paying off: Amazon sells more Kindle e-books now than physical books.
"The customer experience is increasingly device-, OS- and network-agnostic," Stephenson said. "We can try to fight it, but customers will do what they want."
Digital music and media are becoming less reliant on the device they're consumed on, but Stephenson said the next step forward will be for mobile applications and video. Live and network TV is consumed differently on a PC or television than it is on a mobile phone or tablet, and the experience and availability of mobile applications vary from operating system to operating system.
But that could soon change. A new Web standard is emerging in HTML5, which offers a much richer and more dynamic user experience. That means more mobile applications will be written right on the Web itself, meaning they will work across multiple platforms.
Following Amazon's lead with Kindle, Stephenson said AT&T is investing heavily in the cloud, which he called "the path forward."
There is a danger associated with that: As consumers care less about what devices they are using, they also care less about how those devices are connected. Wireless, fixed access or Wi-Fi, people simply want access.
But Stephenson said this is AT&T's Kindle moment: He believes the companies that are most open and amenable to innovation will stimulate the most demand for their services.
As an example, he pointed to text messages. At first, SMS could only be sent to those who were on the same network as the sender. But when networks opened up the ability to send texts to people on other networks, text messaging revenue exploded.
He's hoping the same will be true in the cloud.