Sanofi buys Genzyme for $20 billion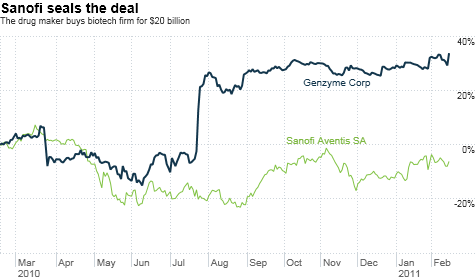 NEW YORK (CNNMoney) -- Sanofi-aventis said Wednesday that it will buy Genzyme for $20.1 billion in cash, plus payments contingent on the success of some of Genzyme's drugs.
The French pharmaceutical maker said it will pay $74 per share for the Cambridge, Mass.-based biotechnology company. Genzyme (GENZ, Fortune 500) shares closed Tuesday at $74.30 each.
The stock has traded in a range between roughly $72 and $74.50 over the last 52 weeks.
The long-awaited deal, which has received antitrust clearance from regulators in the United States and Europe, is expected to close early in the second quarter of 2011.
Under the terms of the deal, Sanofi (SA) will award each Genzyme shareholder a "contingent value right" -- or CVR -- for each share they own. The CVR, which will eventually be publicly traded, entitles the holder to cash payments if Genzyme drugs reach certain sales "milestones."
Christopher Viehbacher, Sanofi's chief executive, said the CVR served as an "important value bridge" between the two companies, and that it "rewards both Genzyme and Sanofi-aventis shareholders."
The deal consummates a long courtship between the two companies. Sanofi offered to buy Genzyme for $69 per share last year, a bid rejected by Genzyme as too low. Sanofi made an unsolicited offer in August and a hostile takeover bid in October.
"Conclusion of the Sanofi-Genzyme saga is a positive outcome for Sanofi shareholders," analysts at Deutsche Bank wrote in a research note. The deal will raise Sanofi's profile in the United States, and could help it expand into new areas such as cancer treatment, the note read.
The CVR was an important part of the final agreement, said Jim Prutow, a health care industry expert at PRTM, a global management consulting firm.
"Although the deal took time, the Contingent Value Right structure is a win-win, since both Genzyme and Sanofi will benefit if the MS (multiple sclerosis) product is successful," he said.
Genzyme is developing a drug called Lemtrada, which can be used to treat multiple sclerosis and other diseases.
Under the CVR, investors will be paid $1 per share when Lemtrada is approved by the U.S. Food and Drug Administration. It could be worth up to $4 if certain sales targets are achieved.
Prutow said the deal reflects the need for "established" pharmaceutical companies such as Sanofi to build their product pipeline through mergers and acquisitions "due to the lack of new drug approvals."
It also shows that drug companies can still expand their businesses through acquisitions despite increased litigation costs and regulatory hurdles, he added.
Separately, Genzyme reported fourth-quarter earnings that missed analysts' expectations, while sales held firm.
Genzyme said net income in the quarter was $221.1 million, or 82 cents per share, compared with $78.1 million, or 29 cents per share, in the fourth quarter of 2009.
Sales rose 23% to $1.15 billion from a year ago.
Analysts surveyed by Thomson Reuters were expecting 86 cents per share on sales of $1.17 billion.
Shares of Genzyme (GENZ, Fortune 500) were little changed in premarket trading, while U.S.-listed shares of Sanofi (SNY) rose nearly 1.4%.