First Premier Bank removes credit card with 59.9% APR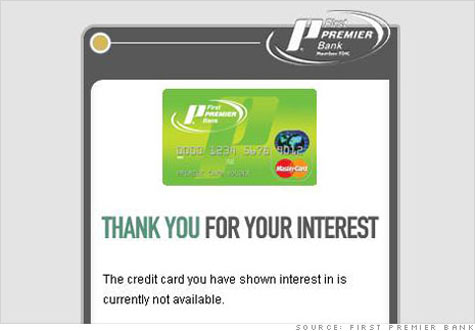 NEW YORK (CNNMoney) -- First Premier Bank yanked its fee-laden 59.9% APR MasterCard from its credit card offerings.
If you go to the company's website, this message appears: "The credit card you have shown interest in is currently not available."
Customers calling First Premier's toll-free number to open an account are given this automated message: "The offer associated with this phone number is no longer available."
A First Premier spokeswoman said the card has been so popular that the bank has reached its issuing limit for the month.
"Due to the high demand for this credit card, we have reached our monthly volume requirements and are not currently offering this product," she said. "Individuals are being asked to consider another offer at this time or they can check back with us next month."
Taking the place of the 59.9% card is a secured credit card with a 19.9% APR. With secured cards, payments are reported to credit bureaus just like with credit cards, allowing consumers to build their credit. But customers have to deposit their own money into an account, so they are technically charging against their own cash. If they don't make payments, the bank keeps their money.
The 59.9% card, which had nearly 300,000 active customers as of early February, charged more than $100 in fees per year and typically extended a credit line of about $300.
The bank originally offered the credit card with an even higher rate of 79.9%. But the company found that too many consumers ran up their bill and then didn't pay, First Premier CEO Miles Beacom told CNNMoney last month.
Beacom said the card serves a growing need for customers with less than perfect credit.