Warning: Bond market volatility ahead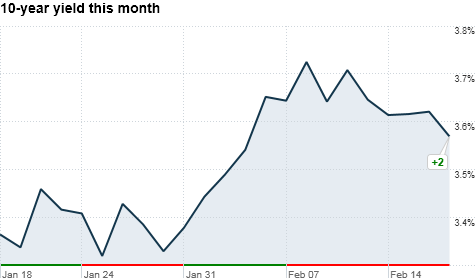 NEW YORK (CNNMoney) -- The bond market has been rocky over the past month, and analysts say we're in store for a rollercoaster ahead.
Investors have a lot on their minds: the deficit, interest rates, inflation and Middle East unrest, as well as continued recovery concerns. And concern is growing that Treasury yields are too low.
"Going forward, the market is going to be more volatile than it's been in a long time," said Kenneth Naehu, managing director and head of fixed income at Bel Air Investment Advisors.
"The current market isn't one for people to buy in and then sit there," he added. "You need to be actively watching your exposure."
Traders are starting to look "a year plus down the road," Naehu said, especially for longer-term Treasuries. They're also keeping a close eye on bond yields.
The 10-year yield had been stuck in a month-long rut below 3.5%, but it has ticked slightly higher over the last two weeks. But the benchmark note's yield -- which affects interest rates on everything from savings accounts to home loans -- has struggled to move much higher than 3.6%.
"There have been concerns that yields have been too low for some time now," Naehu said. "Aside from recessionary fears, the market has been concerned that at some point inflation will rear its ugly head."
Eyes on inflation: A key measure of inflation came in near expectations Thursday. The consumer price index rose 0.4% over the month in January, compared to expectations of a 0.3% increase. Core CPI, which strips out volatile food and energy prices, rose 0.2%.
"The bond market is starting to concern itself with what happens later," Naehu said. "Traders are getting worried about the deficit, and they think the current administration's outlook is overly optimistic."
Investors are also looking to see how the government wraps its quantitative easing plan that was announced last year, in which it will have purchased $600 billion of Treasuries by the second quarter of 2011.
Middle East in focus: Naehu said traders were holding their positions and watching the political protests that have continued in the streets of Egypt since January 25. But pro-democracy protests are starting in other Middle East countries.
Bahrain's health minister said Thursday that at least three people were killed and more than 200 were injured after security forces stormed an encampment of pro-democracy protests.
In Iraq, nine people were killed and 47 were injured Thursday when protesters clashed with security forces in Sulaimaniya. Surges of dissent have also rippled through Tunisia and Libya.
What yields are doing: The 30-year yield ticked down to 4.66%, the 2-year yield held at 0.65% and the 5-year yield slipped to 2.28%.
The 10-year note's yield was at 3.58% in midday trade, down from 3.62% late Wednesday.