Food and gas drive prices up in January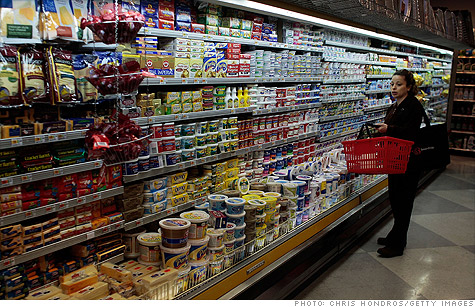 NEW YORK (CNNMoney) -- Prices are still going up on food and gas, but underlying inflation remains low, the government said Thursday.
The U.S. Consumer Price Index, a key measure of inflation, increased 1.6% over the past 12 months ending in January, up from 1.5% in December, the Bureau of Labor Statistics said.
Surging gasoline and food prices helped drive the number higher, accounting for two-thirds of the increase.
Over the past 12 months, the food index has risen 1.8%, its fastest pace since 2009, and gasoline prices have soared 13.4%.
"If you're the average household, and someone wants to tell you inflation is not an issue, you're probably a little skeptical," said Paul Ballew, chief economist at Nationwide.
But economists also look at core inflation, which strips out the volatile food and energy components. That number rose just 1% during the 12-month period, showing overall price pressures still remain tame.
For that reason, this report seems a bit "schizophrenic," Ballew said.
Commodities have surged over the last several months, driving up the costs for raw materials, food and energy. But amid high unemployment, businesses are still trying to avoid passing on all those costs.
"In manufacturing, in retail and financial services, you're seeing the need to restrain passing on costs to consumers," Ballew said
January's data did show big increases in clothing and airfare, which helped drive the core inflation number slightly higher.
Clothing prices increased 1% in January. While that may not sound significant, it is a large jump from December, when apparel prices rose only 0.1%.
And airline fares increased for the fifth month in a row, rising 2.2% in January alone.
"Those are two industries that are very dependent on commodities. For apparel, just look at cotton prices, and airlines are affected by fuel," Ballew said. "This is a reminder to us that commodity prices will at some time affect other categories."
On a monthly basis, the overall CPI rose 0.4% in January, unchanged from the previous month. Economists surveyed by Briefing.com had expected a 0.3% rise in January.
Core CPI rose 0.2% for the month, up from a 0.1% rate in December.