The contrarian case for AllianceBernstein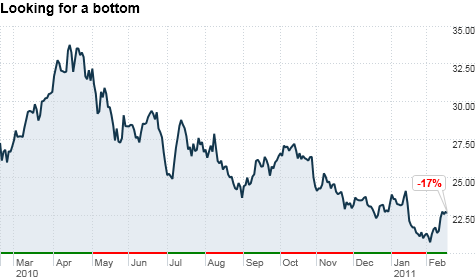 FORTUNE -- During boom times for stocks -- like the one we're currently experiencing -- asset managers such as AllianceBernstein usually do well. The market buoys their mutual funds, clients add money, and fee income rises. There's just one problem for AllianceBernstein this time around: its clients are rushing for the exits.
The New York-based money manager that oversees $486 billion has bled clients ever since a colossal wrong-way bet on financials before the credit crisis. Last week it announced that institutional investors -- typically the "stickiest" shareholders because of their longer-term outlook -- pulled out $22 billion in assets during the fourth quarter. Retail investors yanked another $6 billion from AllianceBernstein's mutual funds and other accounts in the quarter.
Over the past two years, as the S&P 500 has returned 100%, investors have yanked $123 billion out of AB because of lousy performance by its mutual funds. Since last April its stock has tumbled 33%.
There's no doubt the money manager is on the sickbed. But with January fund flows hinting that the worst may be over, the stock looks like a good buy. "Even if the business goes nowhere... you could make the argument that the stock should be trading at $25," says one large shareholder who asked not to be named because they compete with AllianceBernstein (AB). It currently trades at around $22.50.
The story of AllianceBernstein's turnaround effort goes back three years. Until 2008, the firm was flying high. It ran market-beating mutual funds, had an effective sales force, and its longtime CEO Lew Sanders had overseen the successful 2000 merger of the growth stock-focused Alliance with the value-oriented Sanford C. Bernstein shop.
But the 2008 market crash changed everything. Sanders oversaw AllianceBernstein's disastrous bet on financial stocks like Lehman Brothers and Fannie Mae. Assets under management plummeted by almost half from a high of $837 billion in 2007. Peter Kraus, a Goldman Sachs (GS, Fortune 500) veteran known for his deal-making skills, was recruited to cleanup the mess. The savvy banker has cut employees, merged its offices, and introduced new real estate investment products in an attempt to attract assets.
Kraus might finally be stemming the tide. January outflows slowed to a 3.5% annualized loss rate, helped by the improving performance of the firm's mutual funds. In the fourth quarter, 62% of AllianceBernstein's funds beat their Lipper average over 3 years, compared to 58% in the previous quarter. And 59% of its funds beat their average over five years, compared to just 53% the previous quarter.
By no means does that crystallize the turnaround's success. "Two issues keep us cautious," wrote Citigroup analyst William Katz in a Feb. 11 report, in which he upgraded the stock to a "hold." "First, 2011 is likely a transition year on flows, in our opinion. Second, strategic positioning is still unclear with uneven (longterm) performance record..."
Even if Kraus fails to turnaround the firm, there's reason to believe the stock might be okay in the long run. That's because AXA, the large French insurer, owns 60% of AB's limited partnership units. It's unlikely that AXA will sit idly as its shares continue to lose value. AXA (AXAHY) could push AB to merge or be acquired.
AllianceBernstein's outsized dividend yielding 7.5% should also protect investors from further losses. If you apply earnings estimates for 2011, its dividend yields more than 8%. Its structure as a master limited partnership means it pays out most of its earnings through a dividend to avoid corporate taxes. Investors shouldn't expect the 8% dividend to last if good earnings surprise the market. Still, it means investors get paid to wait for any good news. And because the stock has plummeted recently, its forward price-to-earnings ratio fell to 11.8, well below its long-term average. It could fall further, of course, but probably not by much.
Successful investing means going contrarian at times, and there's ample opportunity to do so with AllianceBernstein. None of the nine Wall Street analysts following it rate the stock a buy; three recommend selling it. If anything, that might give investors hope. If every analyst rated it a "buy," after all, it would probably be fully priced. A recent study by Bloomberg supports the idea of ignoring analysts.
It may still take more time for the turnaround to take hold, but being paid 8% to wait is a pretty good deal.