Boozy Red Cross tweet turns into marketing bonanza for Dogfish Brewery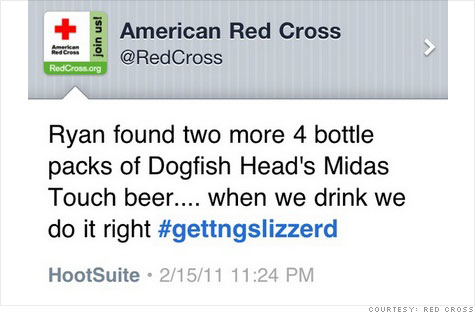 NEW YORK (CNNMoney) -- When Gloria Huang accidentally blasted off a tweet from the Twitter account of her employer -- the Red Cross -- she had no idea her call for beer would turn into a blood donation drive and give a small craft brewery a boost.
On Wednesday, in a HootSuite mishap, Huang tweeted: "Ryan found two more 4 bottle packs of Dogfish Head's Midas Touch beer...when we drink we do it right #gettngslizzerd."
It was meant to be tweeted from her personal account, but instead went out to all 270,000 followers of @RedCross.
Misfired and ill-considered tweets can spark painful backlashes -- just ask Kenneth Cole -- but the Red Cross took Huang's error in stride. It responded in jest, tweeting: "We've deleted the rogue tweet but rest assured the Red Cross is sober and we've confiscated the keys."
And that's where the story took a twist. Impressed by the Red Cross' calm and humane response, other tweeters -- especially @dogfishbeer's fans -- launched a fundraising and blood donation drive. Its hashtag: #gettngslizzerd.
Mariah Calagione, Dogfish's vice president of marketing, handles social media for the Milton, Del.-based brewery. She discoverted the mistweet during her daily tweet check -- and immediately re-tweeted it and joined the online conversation.
Social media has played a major role in getting the local brewery's name out there, she says: "We have a lot going on and the Internet lets us talk with our customers on a daily basis." The company has nearly 40,000 followers on Twitter and 149,000 Facebook fans.
That community turned the Red Cross mistweet into a rallying cause. Breweries and pubs in many of the 30 states that distribute Dogfish beer launched beer-for-blood offers. A typical one, from the Flying Saucer bar in Austin: "Show us you donated a pint @redcross today & we'll buy you a pint of @dogfishbeer #gettngslizzerd"
It's a nice boost for the Red Cross -- and an unexpected marketing bonanza for Dogfish. With a staff of 150, the company doesn't have the budget to do much advertising and relies on word-of-mouth endorsements, Calagione says.
"Now we get to talk to a bigger pool of people online," she says.
The Red Cross is also delighted with how a mistake that could have been disasterous instead turned into a heartwarming story.
"While we're a 130 year old humanitarian organization, we're also made of up human beings," the agency wrote in a blog post. "Thanks for not only getting that but for turning our faux pas into something good."
And for its new wave of Twitter fans, the Red Cross offered two pieces of advice. Wait a bit after donating that pint of blood before guzzling down your free beer pint.
Also: "Be careful of Hootsuite!"