Federal shutdown: The clock is ticking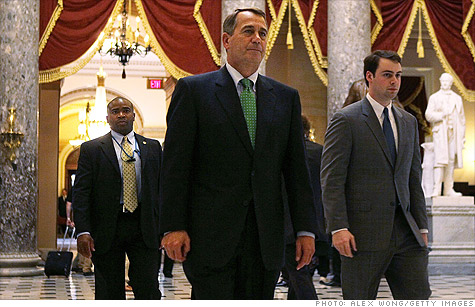 WASHINGTON (CNNMoney.com) -- One thing is clear: nobody in Washington says they want a government shutdown.
But lawmakers have only until a week from Friday to agree on a way to keep the lights on in federal offices here and around the world. The clock is ticking.
Lawmakers are off this week, but they're already starting to talk behind closed doors about averting a shutdown.
The real work comes next week, when Congress gets back to Washington with just four days to the deadline to act on a plan for the remaining seven months of the current fiscal year.
Even though House Republicans pushed forth a budget early Saturday with more than $60 billion in cuts, it's practically a nonstarter with the Democrats who control the Senate. And even if such deep cuts got through the Senate, the White House has promised to veto them.
So the thing to watch is whether lawmakers embrace another stop-gap measure to avoid a shutdown while they hash out a broader deal on cuts for the rest of the fiscal year, which runs through the end of September.
When lawmakers hit the talk shows on Sunday, they downplayed a shutdown and talked about a desire to find a short-term deal.
"My guess is we'll probably have some short-term extensions while we negotiate these things with spending cuts," Rep. Paul Ryan of Wisconsin -- the new chairman of the House Budget Committee -- told the CBS program "Face the Nation."
But that desire could come face-to-face with ideology. Last week, Speaker John Boehner drew a line in the sand, saying the House would not agree to a stop-gap measure that doesn't cut spending in some way.
And Democrats also appear to be standing firm. House Minority Leader Nancy Pelosi of California said late Friday that Democrats want a deal to keep funding at current levels, at least through March 31.
When asked if Democrats would agree to more cuts in a stop-gap measure to avoid a shutdown, Sen. Charles Schumer of New York told CNN on Sunday that his party has already agreed to slice billions from the budget.
"Those cuts are very painful and many in our caucus didn't want to go along with those," Schumer said.
The last time the federal government went dark was for five days in November 1995 and another 21 days, ending in January 1996, during the Clinton administration.
It led to longer waits for veterans and seniors getting Social Security, Medicare and benefits checks, according to the Congressional Research Service. Some 800,000 workers were sent home during the first shutdown and 284,000 were sent home during the later shutdown. The closure of 368 national parks, monuments and museums resulted in a loss of 7 million visitors.
-- CNN's Brianna Keilar and Tom Cohen contributed to this report.