Bonds yields fall on Libyan unrest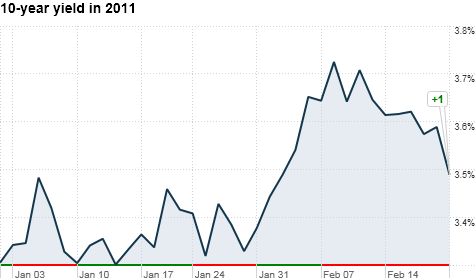 NEW YORK (CNNMoney) -- Bond yields have been exceedingly low in recent weeks, and the turmoil roiling the Middle East and North Africa sent them even lower Tuesday.
Civil unrest in Libya has entered its eighth day, fueled by protestors against dictator Moammar Gadhafi's 42-year reign and high unemployment.
Pro-democracy protests have rippled through Bahrain, Iraq and Tunisia as well, following the political protests that have continued in the streets of Egypt since January 25. Political unrest tends to send bond prices higher, as investors look for safer investments.
"It's about the unrest, the fear of instability," said Bill Larkin, portfolio manager at Cabot Money Management. "If Gadhafi goes, then what's next? What replaces these governments?"
World financial markets felt the blow, with stocks falling in the U.S. and across Asia, and markets in Europe under pressure.
Beyond the Middle East, investors were also digesting a raft of domestic data released Tuesday.
Consumer confidence, as measured by the Conference Board's monthly index, rose to a 3-year high in February. But national home prices fell 4.1% during the last three months of 2010, compared with the same period the previous year.
"In housing, things are still sort of in that dire zone, still weak," Larkin said. "But that could solve itself over time. One plus of low bond yields is that mortgage rates will stay low."
But those low yields make it difficult to attract investors to Treasuries, Larkin said.
"It's very tough to find a reasonable return in the bond market right now," Larkin said. "You can buy a corporate or a muni bond with a historically lower default rate, and get a higher yield. You've got to look all across the fixed-income market to seek out the opportunities."
What yields are doing: The 30-year yield fell to 4.60%, the 2-year yield ticked down to 0.55% and the 5-year yield dropped to 2.14%.
The 10-year note's yield was at 3.46% in afternoon trade, down from 3.59% late Friday. The bond market was closed Monday in observance of Presidents' Day.