Oil prices surge 6% on Libya unrest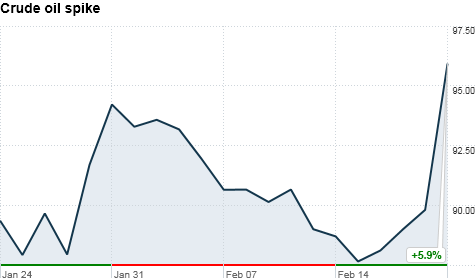 NEW YORK (CNNMoney) -- Oil prices jumped 6% Tuesday, spiking as high as $98 a barrel earlier in the session, as the crisis in Libya sparked concern that the turmoil roiling the Middle East could spread to other producing countries -- including Saudi Arabia.
U.S. crude for April delivery rose $5.71, or 6.4%, to settle at $95.42 a barrel in midday activity. The U.S. market was closed Monday for a holiday, although there was a 6% gain in international trading.
Unrest in Libya has entered its eighth day, fueled by protestors against high unemployment and dictator Moammar Gadhafi's 42-year reign. At least 233 people have been killed since protests began, according to Human Rights Watch.
Gadhafi appeared on state-run television in front of his Tripoli home, the damage still evident from a U.S. bombing in the 1980s, in response to Western news reports that he had fled the country.
"Libya will lead the revolution, will lead America, will lead Asia, will lead the whole world," said Gadhafi, 68, near a statue of a fist crushing an American war plane. "I will be a martyr until the end. Libya we have irrigated by our blood."
Gadhafi also told his fellow Libyans, "They defame your image, unfortunately, in Arab media that are serving the devil. They want to insult you."
"Now it's starting to look like the entire region's on fire, and it looks like it could spread to other parts of the region," said Peter Beutel, oil analyst with energy risk management firm Cameron Hanover. "This thing is getting worse and worse and worse, and it could spread to Saudi Arabia, and that's the big fear."
Libya's importance with regard to oil prices doesn't hinge so much on its oil-producing and exporting capabilities, said Beutel. To put things in perspective, Libya produces about 1.6 million barrels of crude per day, compared with Saudi Arabia's daily production of 8.4 million barrels and worldwide production of 87 million barrels, he said.
But now the monarchy of Saudi Arabia, one of the United States' strongest allies and an island of stability in an otherwise tempestuous region, faces an uncertain future.
"Markets have always relied on Saudi Arabia to act as the swing producer, boosting output if supplies were disrupted elsewhere," said Win Thin, global head of emerging markets strategy for Brown Brothers Harriman.
The International Energy Agency, an industry group based in Austria, said Tuesday that it "stands ready, as always, to make oil available to the market in the event of a major supply disruption if alternative supplies cannot readily be made available via normal market mechanisms."
And OPEC has also said it stands ready to hold an emergency meeting to raise its output if needed, according to news reports.
Beutel said that markets are shaken up over the growing realization that the "regional revolution," rather than being a reach for democracy, "will see more radical and extreme elements take over in succession."
The crisis and spike in oil has led to stock market anxiety. U.S. stocks have sold off amid the growing chaos.
Shortly before Gadhafi delivered his speech, Sen. John Kerry, chairman of the U.S. Senate Committee on Foreign Relations, denounced him and said the oil industry should shun him as an international pariah.
"The Gadhafi government's use of deadly force against its own people should mean the end of the regime itself," he said. "It's beyond despicable and I hope we are witnessing its last hours in power. All American and international oil companies should immediately cease operations in Libya until violence against civilians ceases."
But Beutel said these words will have no impact on the behavior of the international oil industry.
"There were people who were dealing with [Gadhafi] clandestinely when it was illegal," he said, referring to the embargo that was lifted in 2004. "There were people dying to jump back in bed with this guy the minute that it was open."