Barnes & Noble shares tank on earnings, dividend news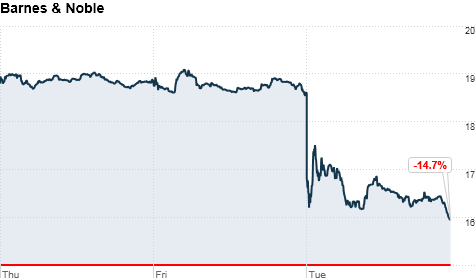 NEW YORK (CNNMoney) -- Shares of Barnes & Noble tanked more than 14% Tuesday after the bookseller missed on its earnings and suspended its dividend payment.
The company reported third quarter earnings of $60.6 million, or $1 per share, on sales of $2.3 billion. Analysts surveyed by Thomson Reuters had expected earnings per share of $1.13.
The company also said its board of directors has decided to suspend its annual dividend payment of $1 per share in order to invest in its digital products.
The market reacted swiftly, sending shares more than 15% lower at one point. Shares closed the day down $2.67 at $15.94.
Retailers have tried to evolve by incorporating e-book readers, like Barnes & Noble's Nook, into their inventory, with mixed success. But Barnes & Noble (BKS, Fortune 500) did report strong online sales this quarter, and comparable store sales ticked up by 7.3% over last year.
Borders, the second-largest book retailer behind Barnes & Noble, announced last week it had filed for bankruptcy and was closing nearly one-third of its 659 stores. The closures are expected to be completed in April.
Barnes & Noble said Wednesday that because of its competitor's store closings and the impact on the retail market, the company would not issue earnings guidance for the rest of the fiscal year.
But the Borders bankruptcy might present an opportunity for Barnes & Noble. The company noted that suspending its dividend it would allow it to "take advantage of any other market opportunities that may present themselves."
That might mean Barnes & Noble is looking to pick up a few Borders store locations should they come up for sale, according to Peter Wahlstrom, an analyst at Morningstar Investment Services. Or the company could invest most of that cash in it's digital business.
The dividend cut makes sense in the grand scheme of things, Wahlstrom said.
"If nothing else, it goes to support management's view that there is still much more growth on the digital side of the business," he said.