Kraft braces for inflation's hefty price tag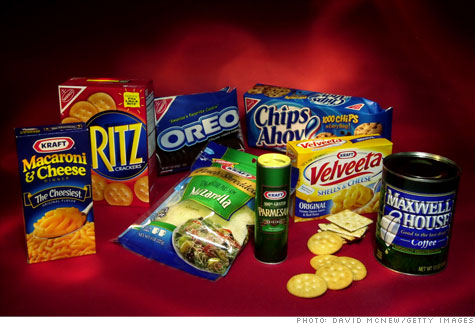 NEW YORK (CNNMoney) -- Kraft Foods said Tuesday that it is facing a huge increase in commodity prices but pledged to shield its customers at the supermarket checkout.
The maker of everything from macaroni and cheese to Oreo cookies said rising prices for grains, wheat, and rice could add as much as $700 million to $800 million this year to the company's overall costs in North America.
"Half of our sales of meat and dairy products will be hit specially hard because of higher commodity prices," Tony Vernon, president of Kraft Foods North America, told an industry gathering at the 2011 Consumer Analyst Group of New York conference (CAGNY) in Boca Raton, Florida.
To protect customers from having to pay more for its products Kraft (KFT, Fortune 500) executives said the company would try to shave costs on the business side.
At the same time, Kraft has made product packaging changes such as reducing the number of slices in a pack of Kraft Singles cheese in order to compensate for the rising commodities.
To offset raw material prices, Kraft also said it would invest more in marketing. Kraft also said it plans to introduce new products.
Northfield, Ill.-based Kraft generates $50 billion in annual sales from its portfolio of brands that include Kraft cheese, Kool-Aid, Chips-Ahoy, Nabisco 100-calorie packs, Oreo and Oscar Mayer.
Many consumer goods companies are on edge due to rising commodity prices.
Executives for Spam-Maker Hormel Foods (HRL, Fortune 500) told the industry gathering that they remain concerned about grain prices, which have shot up between 40% to 50% this year and remain volatile.
Hormel executives said the company would look closely evaluate retail prices of products given the current commodity prices.